CLICK HERE TO GO TO RAFFI'S WUSHU PAGE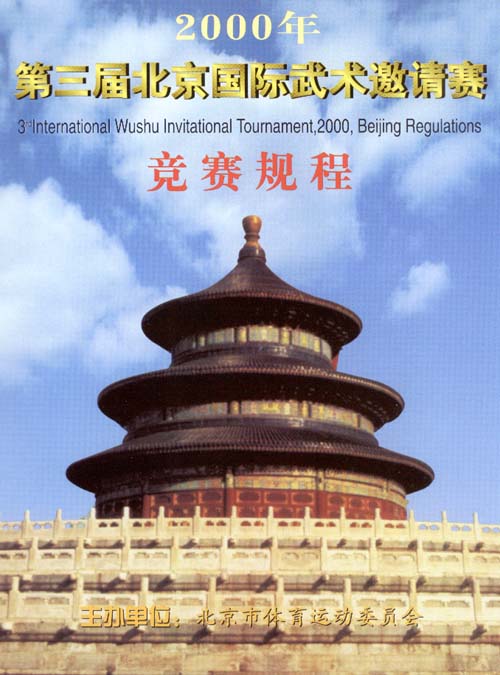 August 8th-9th
Beijing, China

[I was asked to post up information for this tournament in China this summer. The deadlines are coming up soon, but I'm sure if you call as soon as possible and make arrangements, they will accept late registrations forms.
The following information is from the registration packet for the tournament. The English content was a little rough so I have tried to correct it to the best of my ability. I encourage you to double check everything over the phone yourself to make sure there aren't any mistakes. Also if anyone wants, I can scan the Chinese version of the packet too, email me if you want this - Raffi].
&nbsp
Welcoming Letter
Dear Sirs,
With the support and participation of many wushu societies in different nations and regions, two Beijing international wushu and taiji invitational tournaments were held successfully in Beijing starting in 1994. The tournament has become a grand gathering for the world wushu masters to display the different traditional features of wushu, exchange skills, make new friends and strengthen unity.
The 3rd International Wushu Invitational Tournament 2000 Beijing, hosted by the Beijing Sports Commision and chief organizer Mr. Wu Bin, director of the technical committee of the Asian Wushu Federation, vice president of the Chinese Wushu Association, and president of the Beijing Wushu Institute, will be held in Beijing from August 8th to 9th, 2000. This tournament promises to be the most magnificent, official and high level event.
Beijing has ancient culture with 5000 years of history, as well as the world reknown Great Wall, Summer Palace and Forbidden City. Once again, we will be honored to have your presence along with your team, family and friends. Let us assure you the most pleasant, first class receptiona nd competition in Beijing
Organizing Committee of the 3rd International Wushu Invitational Tournament 2000
Beijing China
December 1999

Registration Forms
These are in GIF format. In order to print, save them to your hard drive and open using a program such as MS Photo Editor and when printing select "fit to page" in the dialog box. The second page is split into two seperate files:
Click here to view page 1 of the registration form
Click here to view part 1 of the 2nd page of the registration form
Click here to view part 2 of the 2nd page of the registration form

&nbsp
Regulations for the 3rd International Wushu Invitational Tournament 2000, Beijing, China

1. Date and Place:
	August 8-9, 2000
	Shijingshan Sports Complex, Beijing, China

2. Organizer
	Beijing Sports Commission

3. Competition Events

	1. Compulsory Routines:
		 Changquan, Nanquan, Broadsword, Staff, Spear, Nandao, Nangun

	2. Individual Routines:
		 Changquan, Nanquan, Broadsword, Staff, Spear, Nandao, Nangun

	3. Traditional Routines:
		a. Quanshu: 
			Xingyi, Bagua, Baji, Tongbei, Pigua, Chaquan, 
			Huaquan, Paoquan, Hongquan, Shaolin, Preying Mantis, 
			Eagle Claw, Nanquan, etc.

		b. Traditional Weapons:
			Double Broadsword, Double Straightsword, Double Hooks, 
			Long Tassel Straightsword, Nine Section Whip, 
			Three Section Staff, Pudao, Dadao, Nandao, Nangun, etc.

	4. Sparring Sets:
		Barehand, With weapons

	5. Taiji, Taijisword	
		a. 24 form
		b. 42 form compulsory routine
		c. Chen, Yang, Wu, Wu, Sun, style compulsory routines
		d. 42 form complusory taijisword
		e. Traditional taijiquan
		f. Traditional taiji weapons

	6. Group Demonstration (includes Mulanquan, 18 exercises for health 
		maintaining methods, etc).
		6-12 people per group

4. Duration of Competition Events

	1. Compulsory, individual routines conform witht he stipulated duration
		adopted by the International Wushu Federation

	2. Traditional Routines, no more than 2 minutes	

	3. Taijiquan, 5-6 Minutes, Taijisword 3-4 minutes

	4. Sparring, no more than 2 minutes

	5. Group Demonstration no more than 6 minutes

5. Invited Nations and Regions:
	Japan, USA, Canada, Italy, Australia, Israel, Peru, France, Iran, 
	New Zealand, Brazil, Mexico, Poland, Britain, Switzerland, South Africa,
	Russia, Thailand, Indonesia, Malaysia, Philippines, Holland, Singapore, 
	Koera, Hong Kong, Macau, etc

6. Entry
	
	1. Any wushu oragnization, school, group and individual are welcome to 
		participate in the competition

	2. Each team consists of one team leader, one to two coaches, no limit 
		to the number of participants

	3. Each participant is limited to three events with the 30 US Dollar 
		entry fee (including demonstration events). Additional events
		are 20 US Dollars each.

	4. Fee for room and board is $50 per competitor per day

7. Registration

	1. Preliminary Registration:
		Each participating team is required to preregister by May 30, 2000,
		with total number of participants and competition events

	2. Final registration:
		Registration form is required no later than June 30, 2000

	3. Arrival:
		All teams shall arrive by August 6th, 2000. Please inform the 
		organizing committee of the arrival date, flight number, number 
		of people and departure date in order for transportation and 
		other logistics.

	4. Address:
		Please send the registration form and all material concerning 
			the competition to:
			No. 4 San Kuai Ban Jian Wai yong An Li Chaoyang District, 
			Beijing China
			
			(in Chinese):
			北京市朝阳区建外永安里三快板4号北京武术院北京国际武术邀请赛组委会竞赛部

		Telephone: 010-65673008
		Fax: 010-65673122

	5. Chief Organizer: Wu Bin

		 Organizers: 	Mao Xinjian
				Liang Xianyun
				Zhang Yongtao

8. Competition Method

	1. This is an individual routines and group demonstration competition

	2. Rules are in accord with the International Wushu Federation and 
		People's Republic of China Sports Commission Wushu Competition 
		Rules. Traditional Events are scored according to the characteristic
		of each specific style

	3. Age Groups

		a. 13-17

		b. 18-59

		c. 12 and under

		d. 60 and above

	4. Athletes shall be in compeititon costumes during competition or demonstration

	5. The costumes, apparatus shall be prepared by the athletes themselves. 
		Costumes and apparatus may be purchased at the tournament site

9. Places and Awards

	1. The top six places in seperate male and female categories shall be 
		awarded. Medals and certificates shall be awarded to the first,
		second and third places.  Fourth through sixth places shall be 
		awarded certificates

	2. All competitors shall recieve certificates

10. Referee and Arbitration Committee

	1. Referee and judges are invited by the hosting organization

	2. Arbitration committee shall be formed according to the regulations. 
		Training and sightseeing are optional with additional fees. 
		Please state such activities in final registration

11. Additioanl Information shall be provided by the hosting organzation


Schedule

Date		Morning			Afternoon		Evening

8/6		-------------------- Arrival of Teams -----------------

8/7		Training		Training
					Meeting of team
					leaders and judges
					

8/8		Opening Ceremony	Contest			Contest
		Contest

8/9		Contest			Contest			Contest

8/10		Dismissal




---
Last modified: May 19th, 2000
---
Click Here to go back to beijingwushuteam.com

Send feedback to raffi at beijingwushuteam.com