CLICK HERE TO GO BACK TO RAFFI'S WUSHU PAGE
CLICK HERE TO GO TO MY 2002 CHINA TRIP PAGE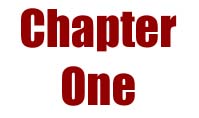 I got to Hong Kong a few days after Christmas, I spent about a week there. I love HK, there's always a lot to see and do, and everytime I go I make new friends and discover new things. Here are a few photos and vidcaps from around the city that I took. The pictures are presented full size and the vid caps are given as thumbnails, click for a larger view, and put your mouse over the picture for a brief caption. I've also included a few short (very short) video clips, click on them to view:





- A short video clip I took on the trolley (428k). Front seat on the upper deck is not for the weak of heart!
I saw this sign and I thought it would be worth sharing: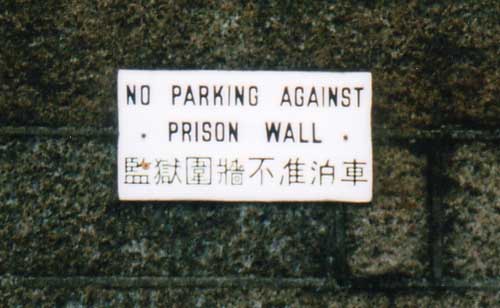 This was down the street from my friend's place, apparently they don't want people doing the old 'park against the wall and bust your friend out of jail' trick.

- Here is a completely random short video clip of a bizarre scene (209k) me and my friends stumbled upon. Apparently Hong Kong's finest, at least the motorcycle cops have time to take pictures with large groups of cute young girls. Notice the two regular beat cops taking this opportunity to write down their digits to give the girls.
Amongst other things, I took the opportunity to celebrate New Years Eve in Hong Kong. I went to the Lan Kwai Fong area for the countdown, it was completely packed and completely full of drunk, partying people:



- Video Clip of the drunken crowds as Midnight approached (245k)

My friend from the Beijing Team He Jingde was in town too, so I visited him at the Hong Kong Physical Education Center, home of the HK Wushu Team:



- Video Clip of the HK Team's workout area (511k)
I had the opportunity to visit the set of Jackie Chan's newest film Highbinders, which was being filmed on location in HK at the time I was visiting. In addition to meeting Jackie, I also met Claire Forlani, who is costarring in the film, Brad Allen, wushu athlete turned JC stuntman, former Shanghai Wushu Team superstar turned stunt double Wu Gang, and I caught a glimpse of Sammo Hung on the set too: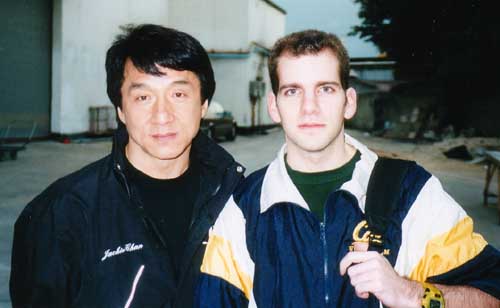 Yes, finally met Jackie! I didn't get to talk to him very much, but he was pretty friendly, in person he comes across almost exactly the same as he does on TV, joking around and having fun.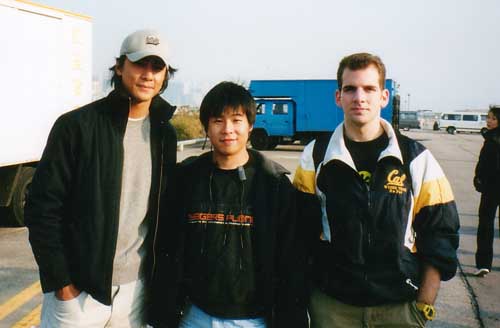 Even cooler then meeting Jackie, was the fact that when I got to the shoot, someone recognized me!. This is Ian, a trainee Assistant Director for this film, while I was standing slack jawed in awe of meeting one of my favorite movie stars, this guy came up to me and was like "Hey, are you Raffi, the webpage guy?" He and I and my pal Dan snapped a picture later on.
&nbsp
The next chapter will focus on my exciting time spent in the wilds of China.
CLICK HERE TO GO TO THE NEXT CHAPTER
CLICK HERE TO GO TO MY 2002 CHINA TRIP PAGE

---