Here are some of my pictures:


A picture I took the day before while they were setting up. Nice scenery isn't it? This was the first Sanda Wang event ever held in an outdoor venue. Apparently in the pre-fight interviews the fighters said they were willing to fight rain or shine. Turned out to be great weather, although Sanda in the rain would have been entertaining.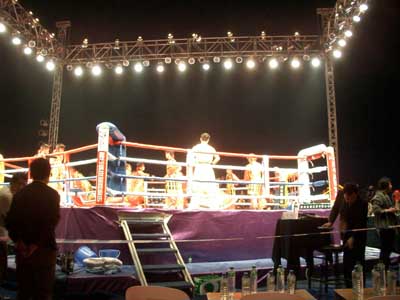 Before the first match there was a wushu demo by a local Fujian wushu school.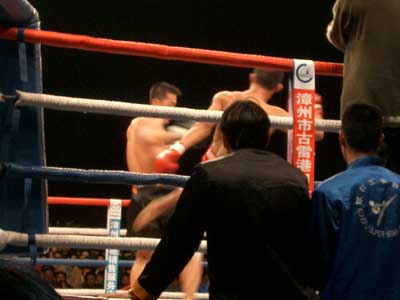 I believe this is the third match, the 85kg weight class, between Qiao Xianjun (black) and Wang Xuyong (red).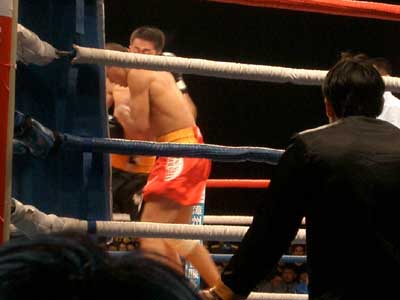 As Sandawang is professional fighting, its format differs a bit from amateur Sanda we are more familiar with. It has a hexagonal ring, which unfortunately obstructed the view a bit from my floor seats (which apparently cost $50 btw!)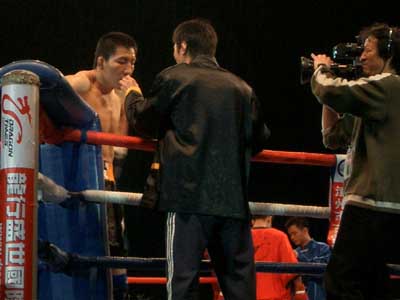 We did get a good closeup view of the black corner though.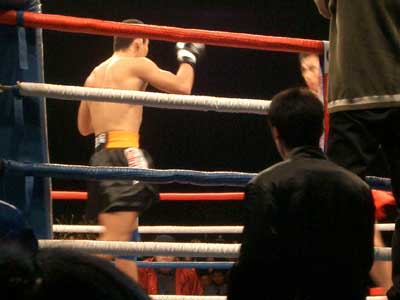 The fights were all pretty good, with a good variety of technique. Good kickboxing and some good throws and sweeps too. No knockouts though.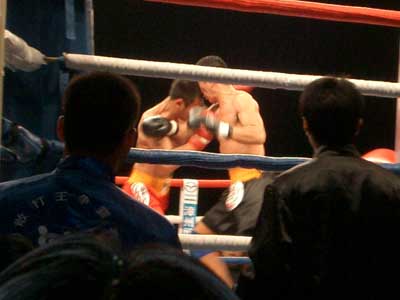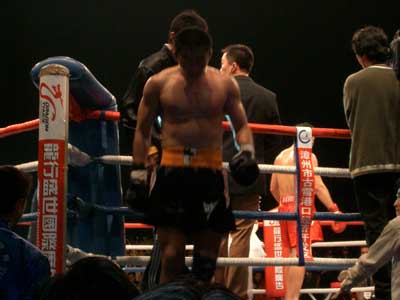 Wang Xuyong won this match, so he goes on to the Sanda Wang finals.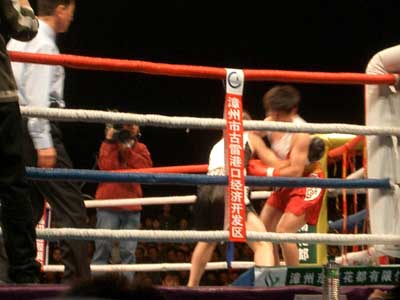 The 4th match of the evening was the female 48kg match. It featured the Gold medal winner from the recent Macau World Games, Li Yonghong.
VIDEO CLIP (2 meg) - here is the opponent (who's name I couldn't find online) coming into the ring at the start of the match. She was pretty good, but no match for Li Yonghong. The production was pretty good, but the cheering you hear over the speakers is actually fake). :-P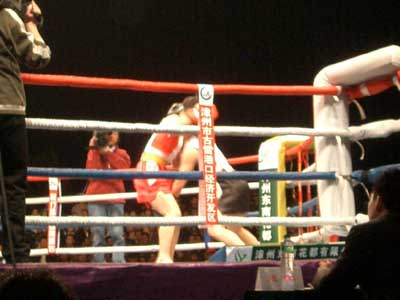 Unsuccessfully trying to throw Li Yonghong

The final match was between Liu Hailong and Dong Haifeng. (This is one of Kevin's pictures I'm linking to)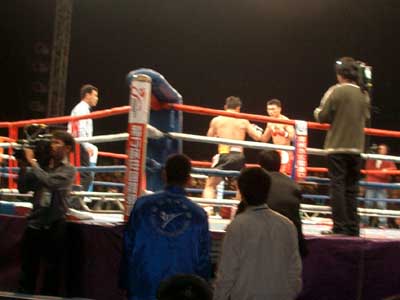 Liu Hailong had just fought at the World Games as well, winning the men's 80kg division.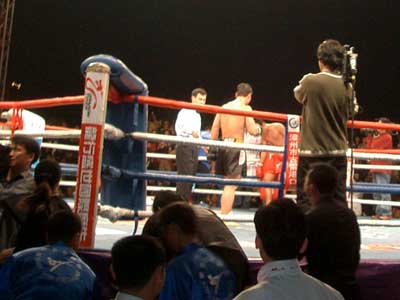 This match was actually a bit less exciting then the previous ones, as Dong Haifeng wasn't a great match for Liu Hailong. But it did have a few exciting throws and lifts. Liu Hailong almost got his opponent over the top rope on two occasions (I'm not sure if you're allowed to do that in Sanda Wang or not... ) Unfortunately i didn't get this on my still camera. :(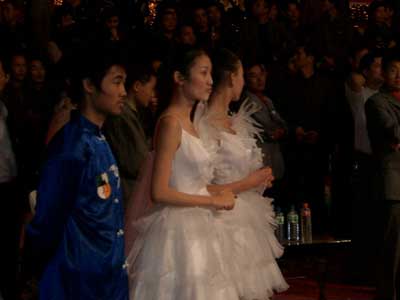 And just because people asked - here are the two ring girls.
&nbsp