CLICK HERE TO GO TO RAFFI'S WUSHU PAGE
---
Photos of 2001 US Team Trials at UC Berkeley
by raffi (4/28/01)
No big write up, just some pics I took during the 2001 US Team Trials held during UC Berkeley's 9th Annual Chinese Martial Arts Championships on April 21st. Some of the US's best wushu athletes vyed for the coveted 8 spots on the US Team. It was a pretty good competition and I think I got some pretty good pictures. The following are some of the better ones. If nothing else it will give you a chance to tell who is who on the results. (which I encourage everyone to check out, they are unparalleled in their disclosure! I wish every tournament had results like this!)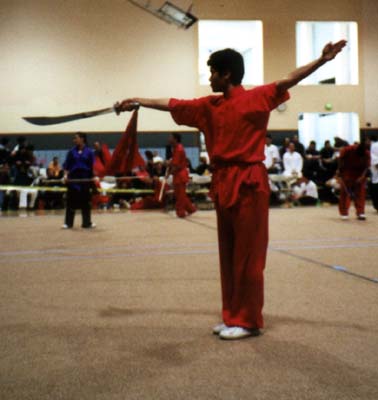 Steven Kam of the Stanford Wushu Team in Broadsword.

In case you missed it, the final results of the team trials are -

Men's:
A Team - 
1. Nathan Tong
2. Brandon Sugiyama
3. Rory Bratter
4. Joe Scarcella
5. Phillip Chen

B Team - 
1. Arthur Chen
2. Justin Ho
3. Peter Wng
4. Matt Emory

C Team - 
1. Ken Glynn
2. Eddy Quintana
3. Richie Brandon
4. Holman Chou

Women's:
A Team - 
1. Felicia Sze
2. Jennifer Haight
3. Cheri Haight

B Team - 
1. Tina Fu
2. Sarah Chang
3. Cheryl Chang
4. Rosa Huang

C Team - 
1. Michelle
2. Stephanie Liu


CLICK HERE TO VIEW THE OFFICIAL TEAM TRIALS RESULTS
But onto the most important thing, the pictures! These are only about 1/2 of what I've taken. I'll try to scan the rest in as soon as I get a chance, so check back in a week or two.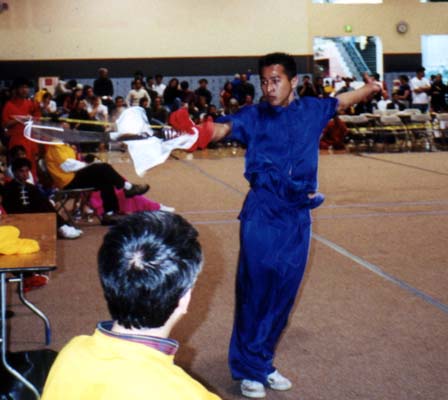 Arthur Chen took first place with this performance in Broadsword.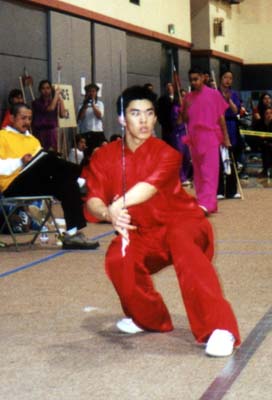 Justin Ho finishing his form in Straightsword.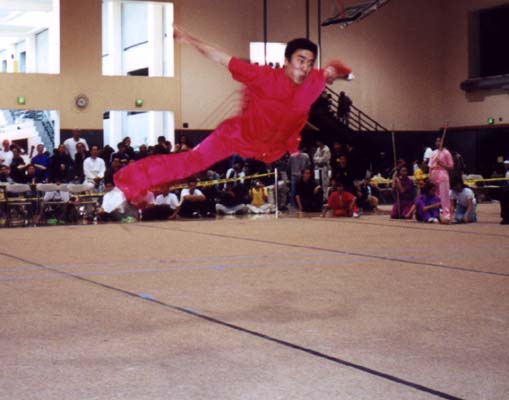 Nathan Tong made the US team for the 4th time with this performance in Straightsword. Much air was gained on this Butterfly.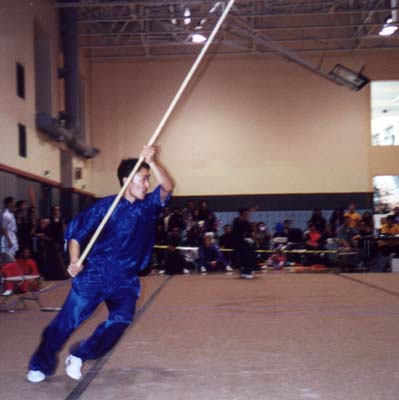 Brandon Sugiyama's performance in spear didn't get him on the team for his second time. But his Taiji and Taiji Sword definitely did.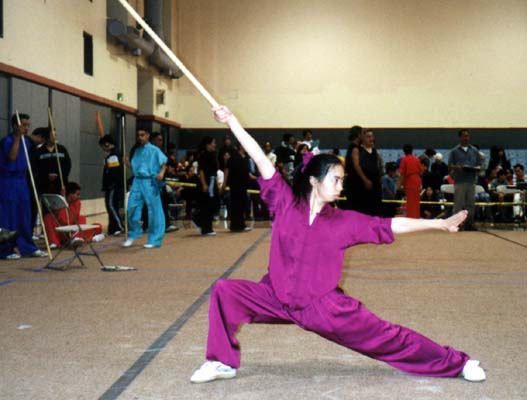 Cheryl Chang of USWA competing in Spear. Cheryl of course was also the Women's 2001 Collegiate Wushu All-Around Champion.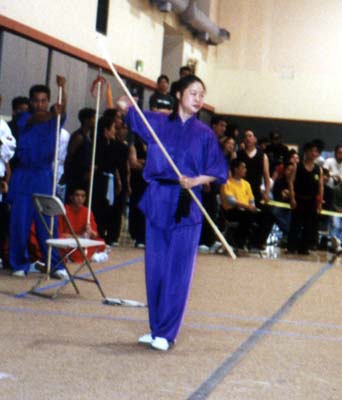 Felicia Sze made the Women's Team with strong performances in Changquan and Straightsword. But her staff broke in her final event.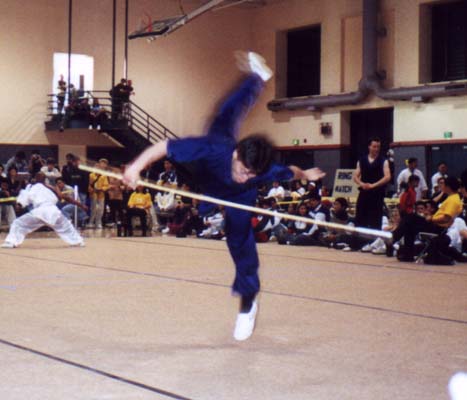 Joe Scarcella in midflight during staff. Joe made the team with a strong first place victory in Nandao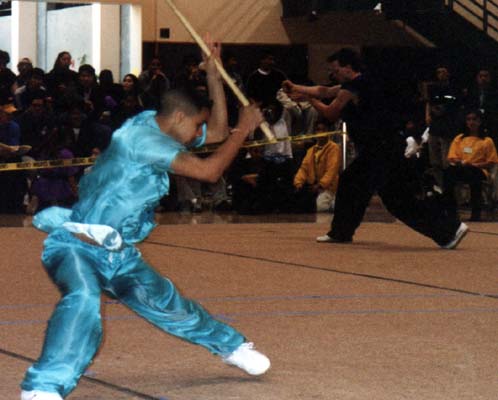 Rory Bratter in the Staff division. Rory made the team with a first in Changquan. Yes, you're right, that is Kevin 'McChubb' Morris competing in Nanquan in the next ring over.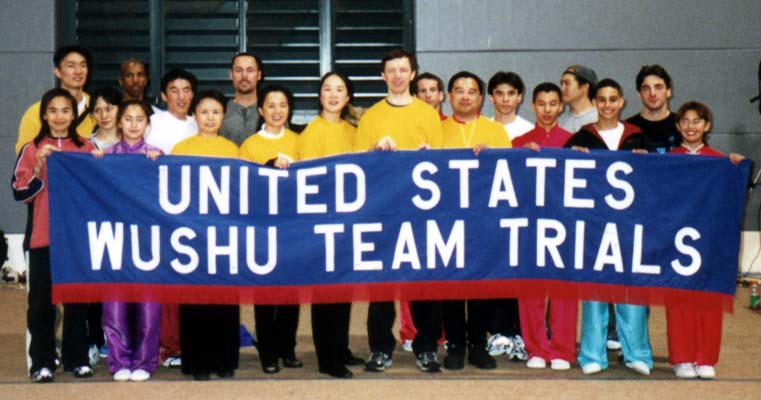 Afterwards most of the competitors who tried out posed for a picture along with some of the judges and officials. Let me see if I can get everyone properly identified along with what spot they ended up getting (A,B,C team), etc. From left to right, the front row is: Tina Fu (B), Rosa Huang (B), Cherie Haight (A), Zhang Ling Mei (Judge), Chen Dao Yun (Judge), Liu Yu (Judge), Jeff Bolt (USAWKF official), Bryant Fong (Judge), Edward Quintana (C), Rory Bratter (A), Jennifer Haight (A). The backrow is, from left to right: Brandon Sugiyama (A), Tony Riggins, Nathan Tong (A), Ken Glynn (C), Richard Brandon (C), Jose Sanchez, Peter Wong (B) and Joe Scarcella (A).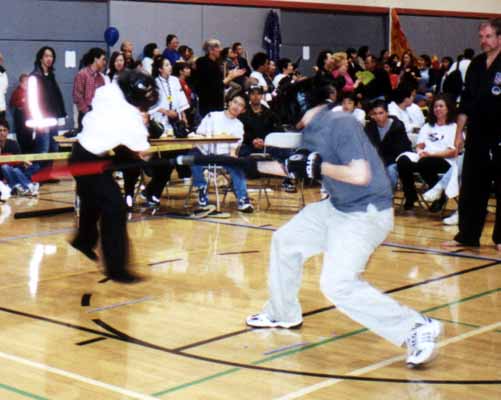 While the team trials was going on, everyone's favorite contact sport of Chanbara was being run in another ring. James Yang showed them how we do it at Cal. He took first in the short weapons division. Here he's taking someone out in the long weapons division.
---
Click Here to go back to beijingwushuteam.com
---
Send feedback to raffi at beijingwushuteam.com