D.Y. Sao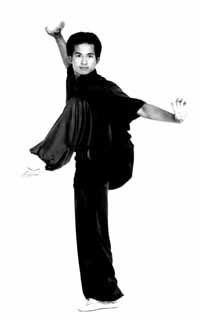 D.Y. Sao, 23, was born in the middle of the Khmer Rouge civil war in Cambodia. As refugees, his family escaped the communist regime and fled to America where he was raised in the low-income neighborhoods of Long Beach. He recognized his love for the martial arts at an early age. He recalls when he was 7 years old his father took him to a karate school only to come home heart broken. Martial arts was a luxury that they could not afford. To make up for it, his dad watched the karate class from afar and tried to draw some techniques for DY to learn. His hope to train at a school faded as his childhood years passed, but he remained fascinated with martial arts.
From watching great stars like Donnie Yen and Jet Li, DY and his friends were inspired to imitate and create movements in the martial spirit. They played with the Wushu style not knowing what it really was. DY was first introduced to Wushu in August of 2000, at age 21. With his younger sister Dary, he joined the Southern California Wushu Academy located in Garden Grove, CA. Sifu Chris Ho took him under his wing despite the fact that financially, DY did not have much, if anything, to offer in return. Sifu Chris Ho's generosity made wushu possible for DY, and in return he focused much effort and dedication to reciprocate Sifu Ho's generosity.
Sifu Chris Ho trained DY and Dary since August 2000 to the present. He focused DY's training to Longfist, Broadsword, and Staff.
DY has successfully attained a Bachelorís in Psychology and are currently working on masterís programs.
Dary Sao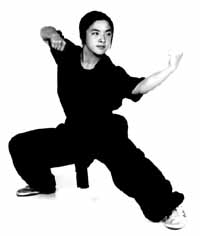 As her family fled the Khmer Rouge civil war, Dary Sao was born in a refugee camp in Manila, Philippines. The youngest of three Sao children, she grew up in Long Beach, California where she currently resides. East Long Beach is an area where poverty is common and fear of crime is part of everyday life. Despite this environment, Dary's family has taught her to appreciate the gift of life, something they most likely would not have if they had not escaped Cambodia. Some say opportunities come and go, but she believes opportunites are a valuable thing. Second chances don't always arise, but she is thankful for God's blessings.
Dary is a graduate of Long Beach Polytechnic High School where she was involved in many clubs including environmental interests, cultural groups, and martial arts. She also received many awards for playing on the Poly Varsity Badminton Team. It wasn't until high school that she got the opportunity to truly bond with her only brother, DY. They shared troubles, heartaches, laughter, discovery, and enlightenment. After growing so closely together, she can't imagine life without DY. Because she loves him deeply, he has become one of the anchors of her life. In fact, he is the one that gave her a chance to try wushu which has since become a great passion for her.
Now at the age of 22, Dary has graduated from UC Irvine with a Bachelor's in Psychology. Her academic path is aimed towards a Master's Degree which will help her reach her career goal of being a school psychologist. In her perfect world, she would eliminate all responsibilities and devote all her time to doing things she enjoys such as practicing wushu. She suspects she is not the only one that has had that thought cross her mind. Aside from training 6 days a week, she finds time to sing, party, dance, read, babysit, chat online, and eat lots and lots of chocolate.