CLICK HERE TO GO BACK TO BEIJINGWUSHUTEAM.COM
CLICK HERE TO GO TO THE WUSHU NEWS
---
ARNOLD BATTLE OF COLUMBUS 2004
by Y Chan and D.J. Farrand (5/4/04)
---
Y Chan and DJ Farrand submitted photos and a review from this year's Arnold Classic. Its a multiday event that martial arts is only a small part of, it also hosts competition for bodybuilding and fitness, cheerleading, etc etc and also a large trade show. I visited the 1999 event when the Beijing Wushu Team participated in the group set competiton. -Raffi
&nbsp
The Venue
by Y Chan
Though the wushu divisions at ABOC are relatively small, the venue is unparalleled. The atmosphere is great with spectators and competitors from several martial arts disciplines, the body building competition, gymnastics, cheerleading, arm wrestling, fencing, the power lifting, models, celebrities, vendors, those that are there just for the free supplements, and of course an appearance by Governor Schwarzenegger.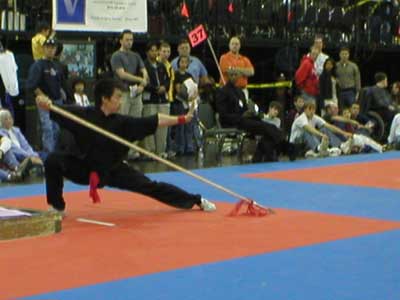 Co-author Y Chan prepares for the next section of his form… which everyone finds equally disappointing as the one before.

Having attended the Arnold Battle of Columbus for the last 5 years, it is clear that since the U.S. Wushu Union has gotten involved with the wushu portion of the competition, it has improved greatly. Throughout the competition, the wushu divisions are consistently pulling in the most interest of all the forms competitions, despite the tournament coordinators apparent refusal to put the wushu division in a high traffic area.

The master's demo, which is inserted halfway into the competition as an intermission for competitors, featured several practitioners from several styles including Grand Master Choi. The demonstration features a martial arts practitioner from Anhui displaying his iron finger skills with push-ups and two-finger hand stands. Following the iron finger master from Anhui was a beautifully choreographed demo from Shifu Nick Gracenin and his students. Because the competition is temporarily halted during this demonstration, it is a great opportunity for everybody to witness Governor Schwarzenegger's appearance, listen to his speech, and marvel at how he fits in his famous "I'll be back" line into the speech differently year after year.

Once the demonstration is concluded, the athletes are well rested, perhaps a little tight, but are rejuvenated by Governor Schwarzenegger's appearance. Once again, the wushu divisions pull in great interest as the fighting sets and optional weapons dazzle the audience.

The Arnold Classic is a great event to attend, whether as a spectator or as a competitor. If one is interested in getting physically fit, this event is great to come, get motivated, and/or get educated on physical fitness. If one is already interested in physical fitness, this is a great event to meet others or gather with old friends that participate in that same interest.


For more information please go to:
http://www.arnoldclassic.com/2004_ac.asp
http://wuma.com/aboc.html/

&nbsp

The Competition
by DJ Farrand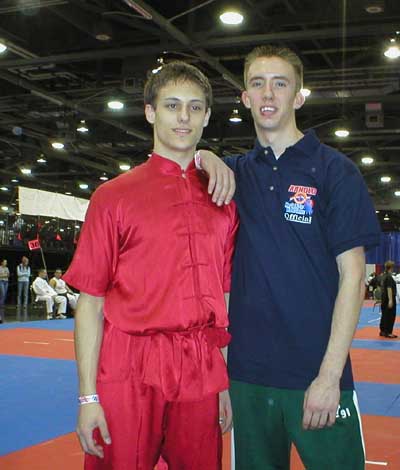 Co-author, D.J. Farrand, and Justin Flinner busting out some smiles for the cam.

The mass confusion of this year ABOC was the major turn off of this year's event. The disorganization from the administrations made the wushu category start off on the wrong foot. As you can imagine, waiting an hour and a half (which in my mind is as exhausting as the actual competing part) for the registration to close before being allowed to start. If they say be there at 10 a.m., they should close registration at 9:30 at the latest so that all events start on time, giving enough time for preparations. Also, the floor arrangement was vary awkward, every year they stick the wushu events in the very back corner giving us no exposure to the crowd unless they make the occasional trip to the restroom or food mart. The ring size is also a dilemma giving us a 15 by 15-foot space to perform. Thanks to all the wushu judges for fighting for every inch to give us optimal boundaries.

At least the younger divisions where the contemporary and traditional were combined to make one event, seeing that there are so small divisions this is acceptable but at least give them more than a 5 x 5 ring to compete. Once again, just as every year, they make it nearly impossible to get your medals. Wanting everyone to get their medals as soon as they are awarded 1st, 2nd, or 3rd places; making it almost impossible to be on time for your next event because they press you to run them back to back to get done in one day instead of spacing it in to a 2 day competition. As odd as it may seem, about half way through all competing is stopped and the rings are closed for Governor Schwarzenegger's appearance and the masters' demo, this makes no sense to me or any one else at the venue.

For the most part, participating as a competitor was very fun. Watching and competing with the highly skilled kids from Anhui was also entertaining. Having approximately 15 competitors (8 chang quan, 7 nan quan), 6 of which were from Anhui and 2 from Brazil made for an awesome time. The masters' demo was also a blast seeing all the different styles coming together to make a spectacular show.


Taking all of this into consideration and knowing that a new administration will be in charge next year brings hope to all that are annoyed with problems that plague this event. These are my thoughts, maybe next year more of you can come support wushu and help progress it here in the U.S.A.

Pictures from the competition:

&nbsp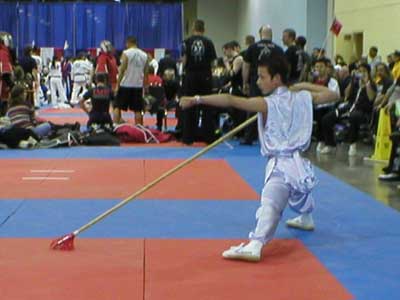 Boy from Anhui had a slick spear routine.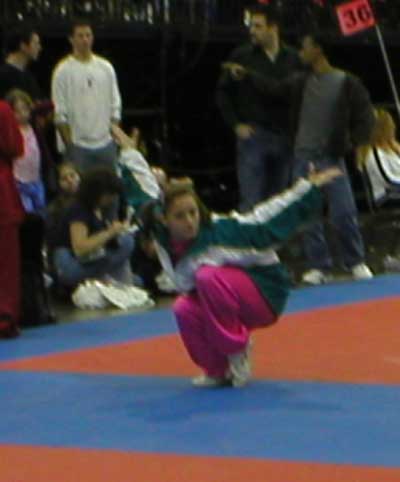 Paula dazzles the audience while as she prepares to perform her eagle routine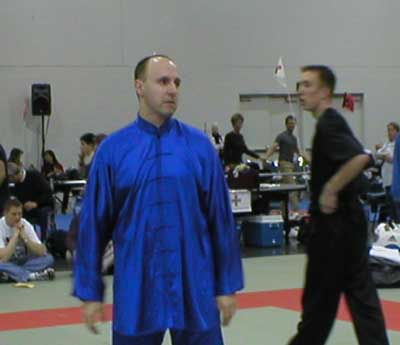 Which wallet is it? It's the one that says… "Master Nick Gracenin" on it.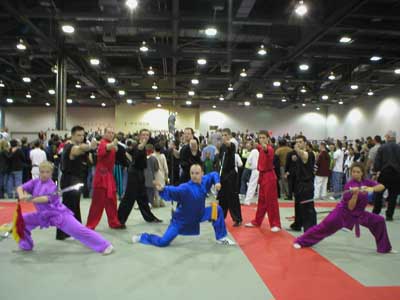 Master Nick Gracenin's group performed a group demo for the masters demonstration, to show them how the "soft" stylists do it.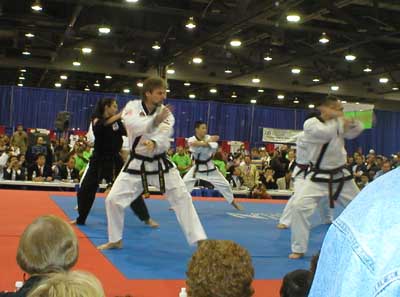 Some "hard" stylists perform during the masters' demo, to help propagate martial arts.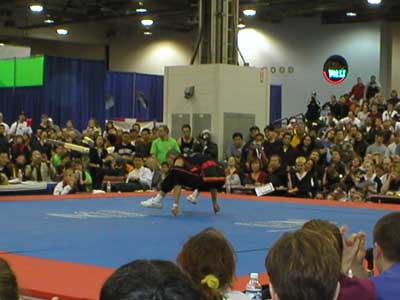 Anhui guy demonstrates his iron-fingers and balance.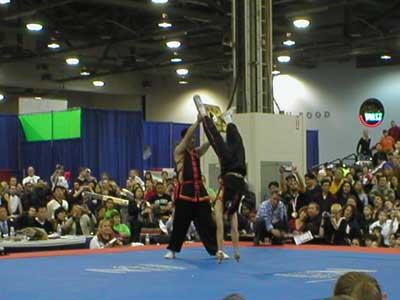 Anhui guy busts out hand stands on his fingers… technically making them finger stands.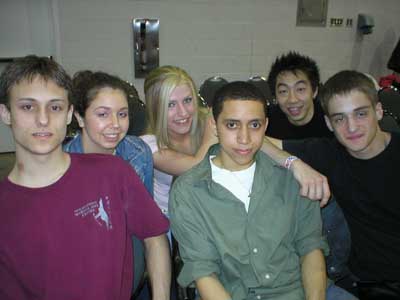 a group picture with some of the competitors and spectators (all of which are wushu practitioners).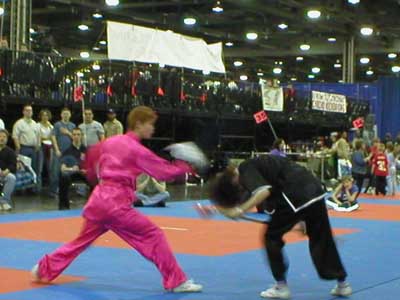 2-person fighting set between two of the Anhui girls.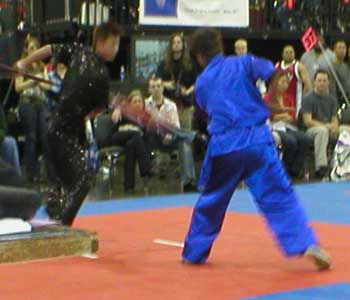 2-person fighting set between two of the Anhui guys.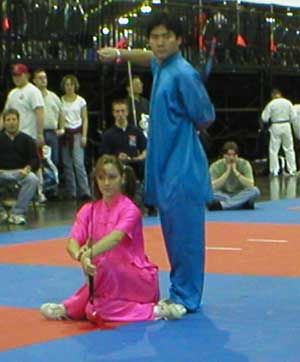 Paula and Jason do their straightsword sparring routine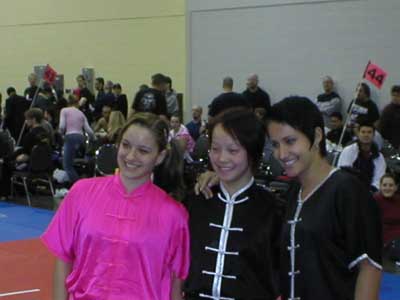 Jordana, Paula, and one of the Anhui girls show the camera love.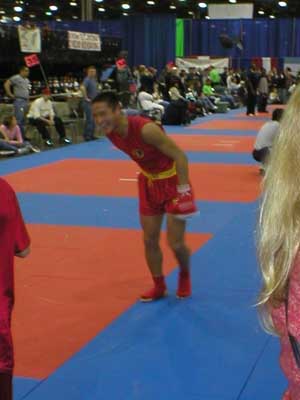 This Anhui Sanshou guy owned!!!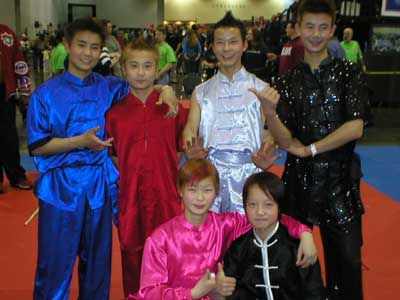 Most the Anhui kids pose after a long day of competing.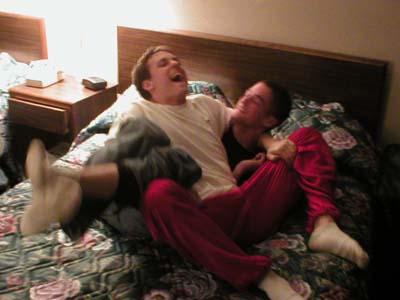 You've done it too. Something about the wushu hotel rooms…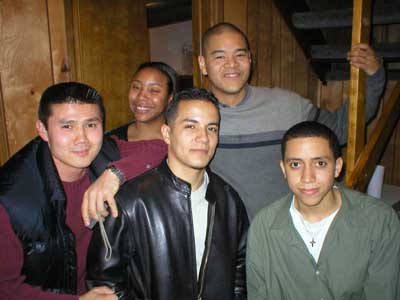 Luis, Brandon, Deion, and Chris at the after-party.
&nbsp
---
Click Here to go back to beijingwushuteam.com
---
Send feedback to raffi at beijingwushuteam.com Last modified: May 4, 2004