CLICK HERE TO GO BACK TO BEIJINGWUSHUTEAM.COM
CLICK HERE TO GO TO THE WUSHU NEWS
---
2004 UC Berkeley Chinese Martial Arts Championship - 4/10/04
raffi
(last updated: 4/16/04)

Here's some of my shots from the 12th annual UC Berkeley CMAT. Unfortunately I only really had time to take pictures at the very end of the day... cause I was busy most of the rest of the time :(

I'll also link to other sites with pictures at the bottom of this page, check them out.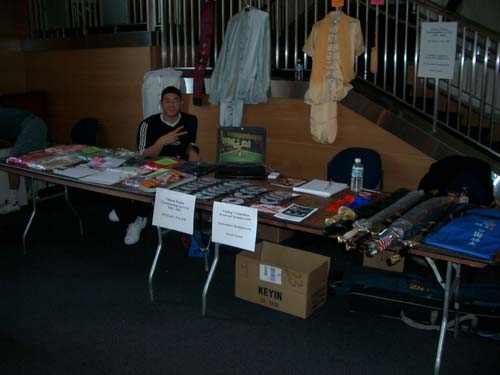 James and I had the vendor area staked out! (http://www.getwushu.com).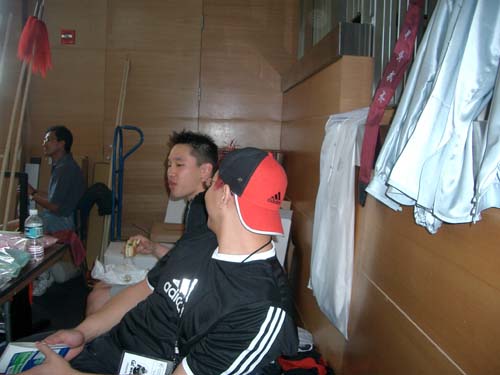 Eric Hong takes a break from his volunteering to eat free food.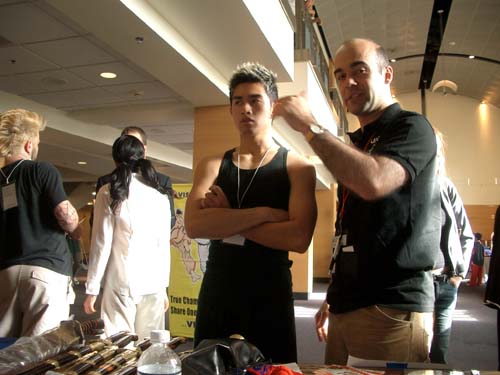 Judge Emilio and Bryan discuss the finer points of wushu competition. Rick Jacobs and Kevin Morris (and unintified 3rd Go-Go Ubari girl in the background)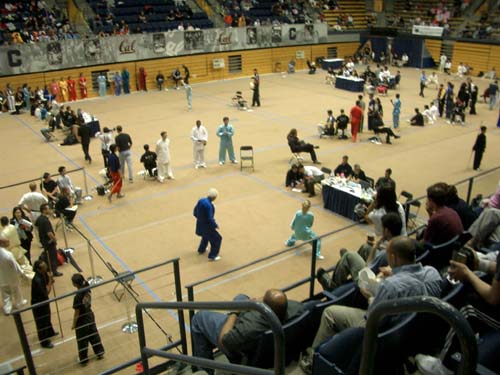 Snuck up to snap a quick shot of the tournament in the early afternoon.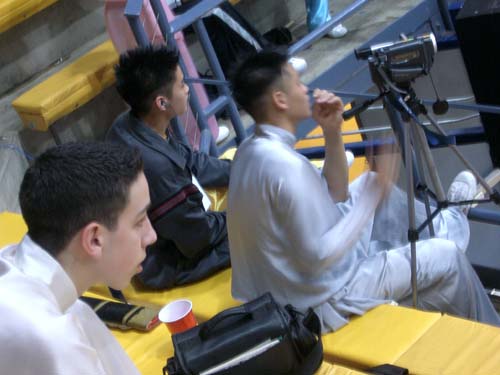 Phil Dang, and his camera that saved the day for Men's Changquan.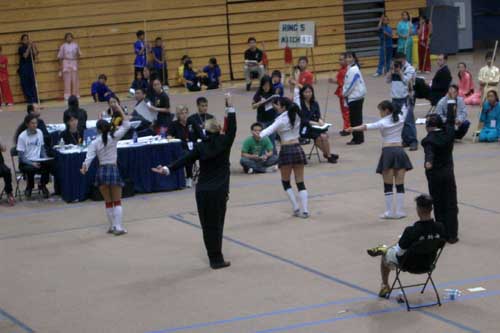 NWTC Students performing a Kill Bill inspired Group Straightsword set (actually upon further review, its 2/5ths Kill Bill and 3/5ths Brittney Spears inspired...)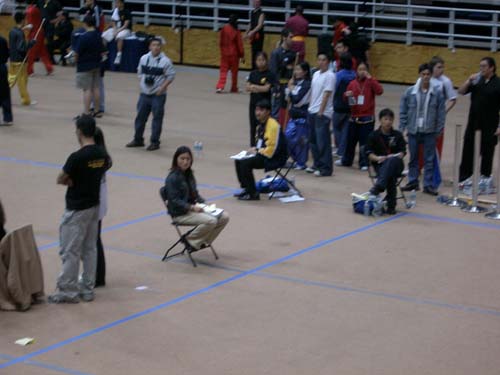 By about 10, the judges started showing the signs of wushu fatigue.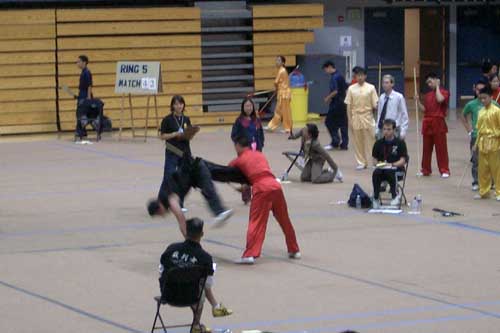 Joe Scarcella and Rolando Lee in the Sparring Sets division.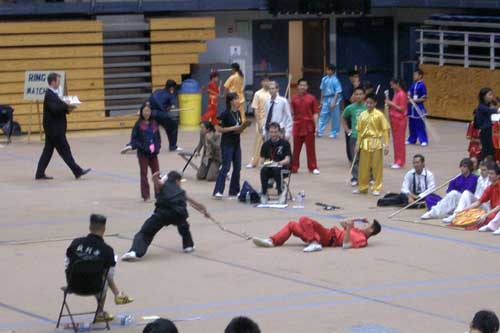 Three Section vs. Staff fighting set.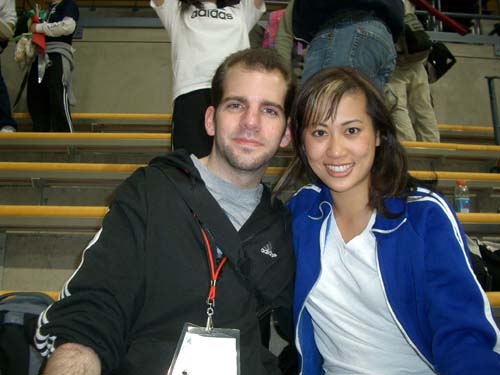 With my old mid-90s acquantance, Adrienne Wong at the end of a very long day.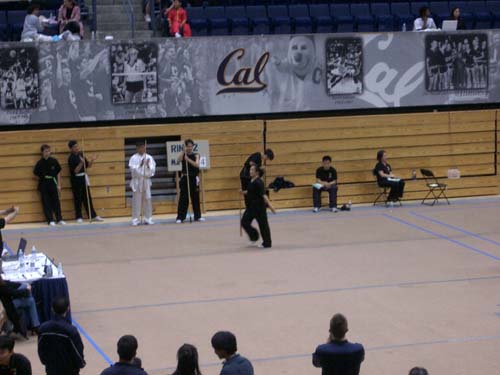 Dary Sao kicking butt in Nan Gun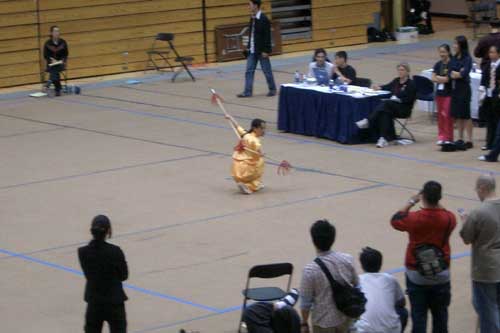 Hea Mi from Seattle demonstrating the rarely seen Double Doubleheaded Spears.
&nbsp
&nbsp
AFTER PARTY: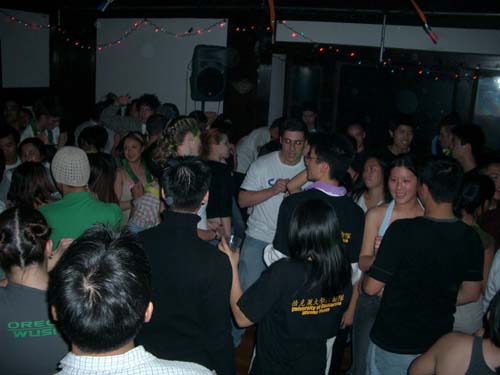 Despite being delayed due to the tournament running late, the afterparty was well attended by a large group of athletes from many different schools.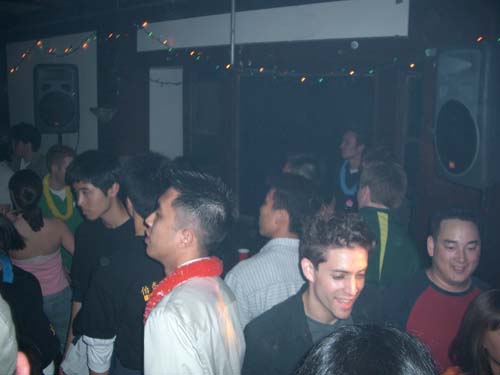 A free VCD to the person who can name everyone in this picture's gamers.com screen name....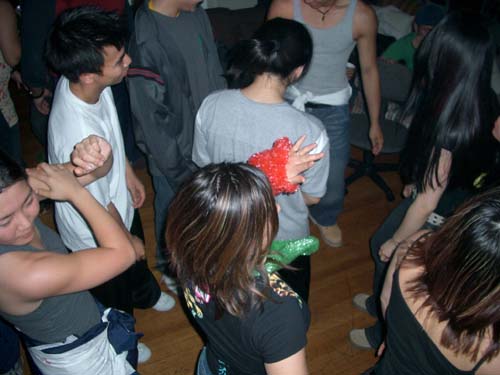 A crowd of people form around DY and his tanktop...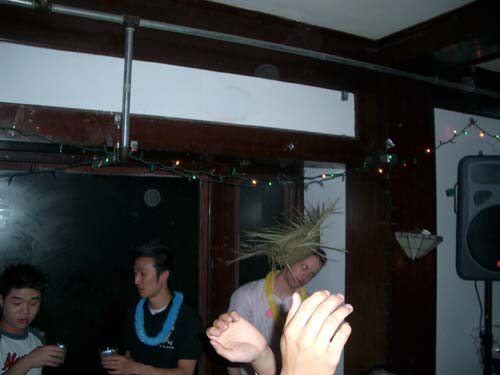 Kevin showing the effects of an 22 hour day.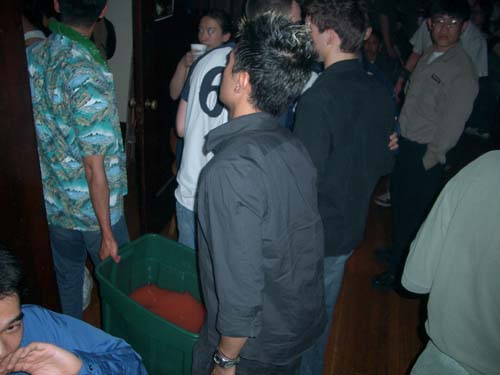 Percy and Bryan bring in the 2nd round of refreshing punch.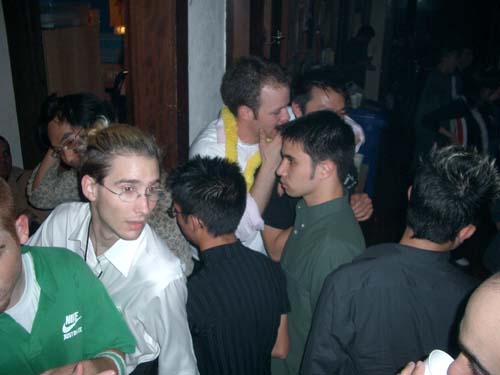 Kevin and Brandon work on their mack strategies in the crowded hallway.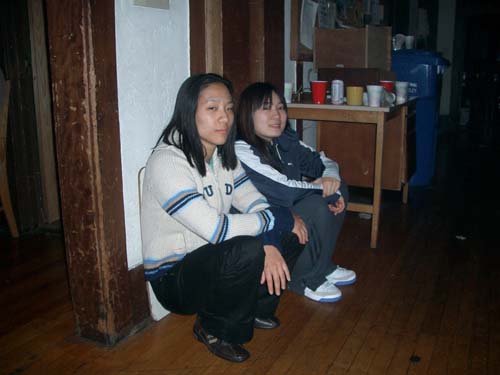 Hea Mi and Leigh doing a great impersonatation of Mainland Chinese waiting for the bus.
&nbsp
Links
Results and better pictures!

Official Results from Cal Wushu - Supreme props for getting 580+ competitor's results on the web within 3 days!

Judging Statistical Analysis - from the results database, by George Nguyen. Very interesting stuff, never been done to this degree for a wushu event.

Pictures by Jim(?) I'm not exactly sure who Jim is, but he takes nice pictures. Brandon has put thumbnails on jiayou.com.

Sammy Tran and Tony Chu's tournament pictures and Afterparty pics

Mark Moran's pictures and blog entry 1 and 2

&nbsp

&nbsp
---
Click Here to go back to beijingwushuteam.com
---
Send feedback to raffi at beijingwushuteam.com Last modified: March 31th, 2007