CLICK HERE TO GO TO RAFFI'S WUSHU PAGE
---
2005 UC BERKELEY CHINESE MARTIAL ARTS TOURNAMENT REVIEW
No Joke - Berkeley's April Tournament Means Serious Competition
by Kai Chang (5/18/05)
---
Special thanks to Kai for sharing his tournament review article with us. It provides an indepth look behind the scenes at the best organized wushu event in the US for many years running. Tournament organizers should study this carefully! Photos credits go to Kai and Sammy Tran. Thanks! - Raffi
---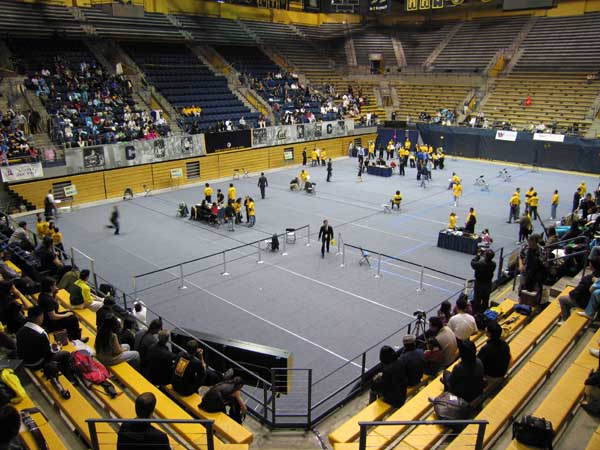 With the many esteemed Chinese martial arts events held annually in the United States , one might be forgiven for overlooking the tournament held every April by the University of California at Berkeley. While most tournaments in the U.S. are run by the most pedigreed Masters and Sifus in Wushu, the UC Berkeley Chinese Martial Arts Tournament (or simply, 'The Berkeley Tournament') is chaired by Sifu Bryant Fong, but organized and operated by the full-time students at UC Berkeley's Cal Wushu Club. How much can this ragtag bunch of college students possibly manage in between midterms, papers, homework, wushu training, parties, and World of Warcraft? Why not save your precious travel budget for the other big martial arts events in the U.S. ? After all, it's April! You've got taxes to do!
Well, in a word you'd be missing what is increasingly regarded as the largest, most logistically sophisticated, and most objectively officiated tournament in the United States. Now in its 13th year, the Berkeley Tournament has been an annual tradition on the west coast since 1992, growing from a small local tournament to the juggernaut of recent years that has drawn increasing national and international attention. This year's tournament, held on April 2, 2005 at UC Berkeley's Haas Pavilion, hosted 564 competitors and a 'Friendship Performance' featuring the Hong Kong Wushu Team.
Stiff competition ranged through a very busy day as Wushu athletes from all around the U.S. and the world met on the competition floor. Schools from the Western US naturally saw the highest representation, but mixed throughout one could see many uniforms and t-shirts for schools from across the nation and hear languages from around the world.
Representing O-Mei Kung-Fu Academy , Wei Ding won Adult Male Contemporary All-Around. In Women's Contemporary, Jie Gao , also representing O-Mei, won Female Contemporary All-Around by edging out last year's champion Tiffany Reyes in Longfist. San Francisco Wushu's Michael Schaefer took Male Traditional All-Around on the strength of his hand and short weapon performance, and Asya Karchemiskiv of Tat Wong Kung Fu Academy took Female Traditional All-Around.
A tight contest in the Adult Internal Male All-Around going to Pacific Wushu's Peter Wolf on tie breakers. Cal alumnus Hansie Wong of Wushu Link won Female Internal All-Around with 4 straight gold medal finishes. Vina Lam of Wing Lam Kung-Fu emerged from a very large field of competitors to take the 13-17 girl's title, and Collin Lee of Wushu West tied with Kent Chen of California Wushu Academy for the 13-17 Male All-Around. Stephen Polcyn, affiliated with Wushu Central and Pacific Wushu, took Senior All-Around. In children's 8-12, Michael Yu of O-Mei Kung Fu Academy and Waiman Tran of USA O-Mei Academy tied for All-Around.
The 90-minute performance featured the Hong Kong Wushu Team, currently on tour in the United States. Wushu West and the Cal Wushu demo team performed some of their own individual and group sets. Special guest He Jing De, former Beijing team member and currently performing in Cirque Du Soleil's "KA" show in Las Vegas, performed a frenzied individual southern routine. Kenny Perez, former US Wushu Team member, performed Rope Dart. Y.C. Wong and his students demonstrated Hung Gar techniques.
Among the many prominent figures in Wushu at the Berkeley Tournament was Zhao Chang Jun, former Shaanxi Team member and five-time Men's National Wushu champion in China with a career total of 54 gold medal finishes. Zhao reportedly delayed his flight back to China so that he could attend the event. Many former Beijing Wushu team members were in attendance as well, often joining in to help judge events. In addition to He Jing De, Li Jing, Jiang Bang Jun, and Hao Zhi Hua were on hand. Making the trip from Connecticut was Hu Jian Qiang, originally from the Zhejiang Wushu team.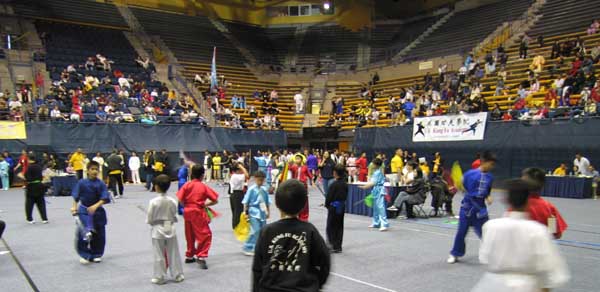 When a plan comes together
With the sheer volume of competitors and events, the battle between the tournament staff and the clock sometimes rivaled the action in the rings. The UC Berkeley Tournament has always been a one-day event, and a hard stop time was set this year for 11:00 pm. For a tournament that once struggled to finish with 200 competitors before midnight, many questioned the feasibility of handling over 550 in one day. The later inclusion of a performance raised further concerns.
Concerns intensified as the tournament approached, prompting a statement released tournament eve, coincidentally April 1st. The statement, issued in all seriousness, addressed concerns over time limitations and offered refunds for withdrawals, but in the end may as well have been a well-timed April fool's joke.
Tournament directors Emily Zeller and Jessica Lam, with Kenny Wu coordinating logistics, implemented several seemingly minor procedural tweaks that saved precious seconds in processing the 1358 total individual routines performed.
Event results were announced on the floor, but the actual medal reception was conducted off of the competition floor, an idea borrowed from the UC Martial Arts Program's (UCMAP) Tae Kwon Do tournaments. Further tweaks in basic tournament procedures such as score announcements helped save yet more time. There was also a marked change in the attitude towards ring downtime this year -- if a ring didn't have somebody actively doing Wushu in it, judges, head judges, ring leaders, and volunteers alike were asking very pointed questions.
Aggressive recruiting and a structured shift schedule helped judging coordinator Carentine Dhanatya solve many of the problems Cal has suffered in the past with maintaining judge availability through the day. The electronic scoring system first implemented in 2003 by Simon Goldsmith, current Scoring committee head, continued to expedite final score tabulation and all-around result tallies.
After threatening to do so for the past four years, Cal also finally made good this year on fully prohibiting at-door registration. Allowed until this year, tournament day registrations delayed start of competition and wreaked havoc with event scheduling and check-ins.
In the end all 564 registered competitors, over 100 more than last year's event, combined to perform a grand total of 1358 routines in eight event rings, not counting group sets and push-hands matches. Competition started at roughly 8:30 am and paused at around 8:00 pm in all but three of eight rings for the performance, which ran for about an hour and a half. Two additional rings were opened up after the demo, allowing all events to finish by 10:30.
All about the Wushu
For all the sophistication of the Berkeley Tournament, you'd be sorely disappointed if you went in expecting the usual trappings of a martial arts event. The rest of the year, Haas Pavilion is home to Cal's NCAA basketball teams. Aside from all the ring layouts and Wushu school banners, one may very well take a seat wondering when tip-off is.
No lion dances, firecrackers, parades of competitors and judges, or other pomp marked the opening ceremonies. Instead, the tournament began after a few words from the UCMAP leadership and the national anthem sung by Zeller, who performs in campus vocal groups outside of school work and wushu training.
Standard stadium fare is available until the early afternoon, after which you'll really wish you had packed a sandwich. Within blocks of the venue, however, are many terrific restaurants serving all kinds of cuisine with menus priced for the starving college student. The advice for any competitor is to bring a buddy to run out and buy food for you or pack a lunch.
Problems and solutions
The Cal Wushu students who step up to the challenge have at most half a year to learn the many intricacies of running a large martial arts event. Also, as with any volunteer-run project, the army of individuals taking scores, checking registrations, and performing other ground-level duties often have only the most cursory training in those tasks. While many ongoing problems have been resolved, some stubborn problems remain, and some new ones arise on occasion.
The majority of the problems stem from the tournament's rapid growth in recent years. The flexibility required to accommodate all competitors requires the maximum use of available resources, so fixed event scheduling, a suggestion made regularly by competitors, continues to be a luxury the tournament cannot afford. This year a particularly unfortunate quirk placed several advanced women's Contemporary events close together at the end of the day, forcing many women to perform as many as three routines in an hour.
The pressure to announce all-around winners on tournament day has been somewhat problematic recently. Electronic scoring did not handle all-around tabulations until 2004, which was error-free. This year saw complications emerge when a grievance was filed over a technical difference between the wording of the tie-breaker criteria on the official web page and the actual criteria used in software. Though score tabulations were mathematically correct for the declared winners, organizers were forced to declare shared titles in 13-17 male and 8-12 combined to resolve the disparity.
In an attempt to prevent judging problems, the US Wushu Union (USWU) has run judging seminars at UC Berkeley on the eve of the tournament since 2003, complete with USWU certification testing. But attendance varies as many of the judges, particularly those from out of town, are unable to commit additional time for the seminar.
These seminars addressed the chief juding complaint raised this year: Contemporary styles performed in Traditional events. Many Traditional rings failed to apply the appropriate deductions for departure from form, leading to several top-finishes going to contemporary stylists. There were also some inflated scores in advanced Contemporary divisions as head judges enforced score ranges as much as 0.5 above the standard, making scores above 9.0 unnaturally common.
There is currently some discussion of making the seminars mandatory and recruiting advanced (non-competing) Wushu athletes from the local area to train for USWU certification.
As each year's organizing committee runs up competitor totals in a game of chicken with time, space, and resource limitations, a now standard feature of the tournament post-game report is the urging that next year's organizers avoid the same. Sifu Fong believes the tournament next year will be capped at about the number registered this year, pointing out that, "This year proved that we can do it, even with the time lost to the performance." Without having to make time for performances (not a regular tournament feature), Fong reasons Cal should be able to finish earlier in the evening without the rushing that has lead to some of its problems.
It takes a village
One might say that the biggest payoff for all the stress and anxiety from running the Berkeley Tournament is not having to do it again next year. Mainly by circumstance, members of the organizing committee rarely return the following year. While this presents an obvious disadvantage, it presents a distinguishing advantage that has helped make the event what it is today.
Each year a new organizing committee brings fresh ideas and open minds to the tournament. Many of the improvements at the Berkeley Tournament came from individuals willing to experiment and push the boundaries of the tournament, often to an alarming degree. Without these new ideas, in all likelihood the tournament would still be in the old Recreational Sports Facility Field House at Cal, struggling to finish 200, maybe 300 competitors by 11 pm and tabulating scores and Grand Champion (not all-around) results on scratch paper and calculators.
Even with the high turnover, however, a remarkable degree of institutional memory and experience persists. The San Francisco Bay Area hosts a highly active Wushu community whose knowledge and experience are but an e-mail, IM, of phone call away. Previous organizers are generally also available for contact, and post-tournament reports are written every year by each member of the organizing committee. The Internet brings in further input from around the world, as participants past, present, and future contribute their ideas and suggestions for each year's event.
This collaborative spirit is one many have found most unique and refreshing about the Berkeley Tournament. Few Wushu events maintain this level of transparency and communication. As a product of this collaboration, how the Berkeley Tournament grows and meets its challenges reflects a great deal about the status of Wushu in the U.S. How a scrappy bunch of college students handle far more than anybody should reasonably expect of them every year has become one of the most interesting annual episodes in the story US Wushu, one that many continue to find well worth the trip.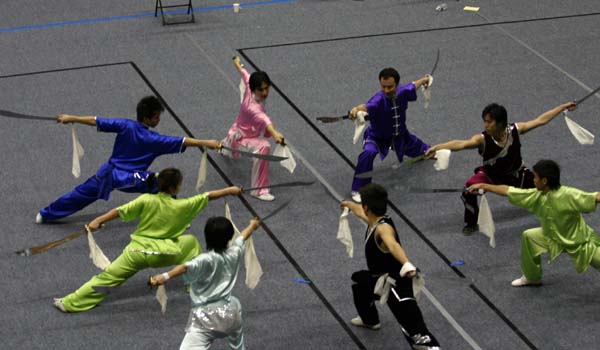 ---
Links:
Tournament Results (ed: all decent tournaments should put their full results online, if a tournament you attended doesn't tournament doesn't, demand it!)
Jiayo.com's CMAT05 Photo Gallery
---
Click Here to go back to beijingwushuteam.com
---
Send feedback to raffi at beijingwushuteam.com