CLICK HERE TO GO TO BEIJINGWUSHUTEAM.COM
Chan Pui's Tournament 2000 in Orlando, FL
by Raffi (7/18/00)
Here are some photos from the tournament as well as some descriptions. I'm missing some names on some of these, so drop me an email if you have any information I'm missing.
My teammate Brandon 'Taiji Pimp Daddy' Sugiyama and I travelled cross country to Orlando, Florida for Tournament 2000 - A big tournament, with about 1000 competitors, mostly in traditional and fighting. But there was a good turnout in comtemporary too. We were joined by our Internet Pal Luciano Cassarino, who came all the way from Argentina to represent. Here are some photos from the competition and behind the scenes -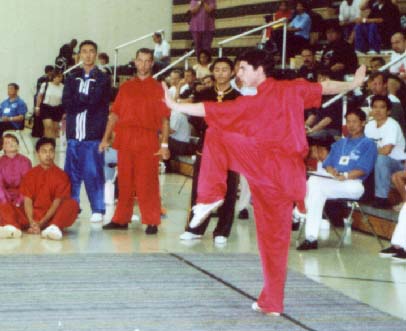 Luciano in Changquan. He took third place

&nbsp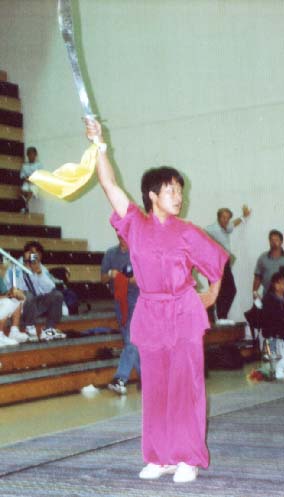 Han Jun, my new friend, is originally from Shandong, but now works at the Spendid China Theme Park in Orlando performing wushu. The website for the park is at www.floridasplendidchina.com. Here Han Jun is competing in broadsword, taking first place, of course.

&nbsp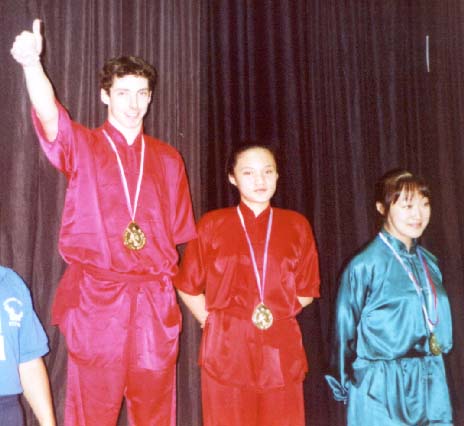 Luciano scores with a first place in the combined long weapons divisions. Melissa Gee got second, and Amber Kuo from Illinois got 3rd.

&nbsp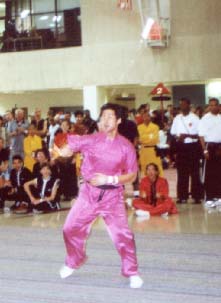 Kyu, from Guo Jianhua's school in Illinois competing with Whipchain in other weapons.

&nbsp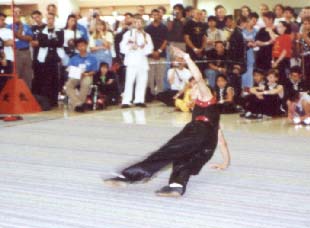 My pal Pablo Bernardson, out of Arizona busting out his Whipchain. Its kind of hard to tell in the photo, but that horizontal line that crosses his wrist is the whip.

&nbsp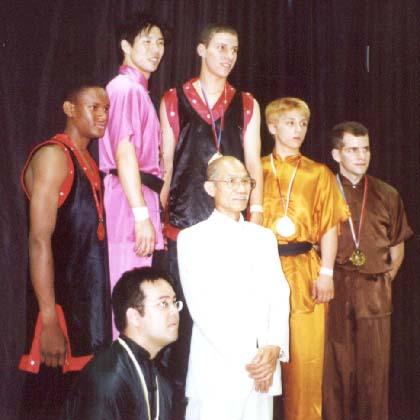 The results of the Other Weapons division. Kyu and Pablo tied for first, Ricky also from Illinois got second, Desiree Dilucenti wasn't there to pick up her award got third, I took fourth and Michael McCloud took fifth. Duane Mangahas got sixth. And that's Wahlum Kungfu Grandmaster Chan Pui, the tournament host taking the picture with us.

&nbsp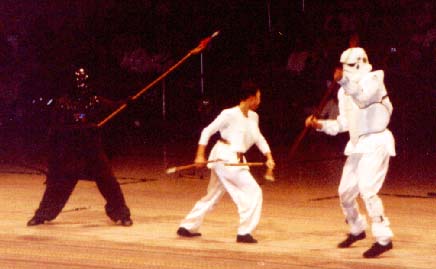 Yes, that is Mimi Chan as Princess Leia, using a three section staff to defeat the evil Darth Vader and a Stormtrooper, both armed with spears. This bizarre scene was part of a school demo performed by the Wahlum School. This was the better of the two demos they did. Don't even ask me to describe the other one!

&nbsp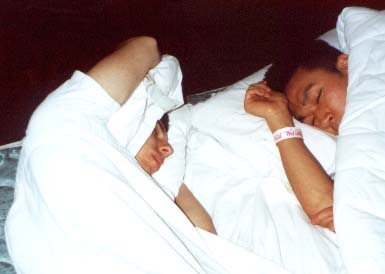 Tired from a long day of winning so many medals, Luciano and Brandon recharge, preparing for the Grand Championship competitions the second day of the tournament. Since my divisions were over by now, I had no problem with staying up late and harrasing them.

&nbsp


Performers from Splendid China competing in the Group Set division. I think they took first place.

&nbsp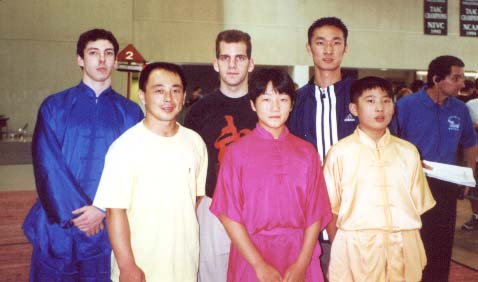 Here's a shot we took with them afterwards. They're all from Shandong and turns out we know some of the same people in China.

&nbsp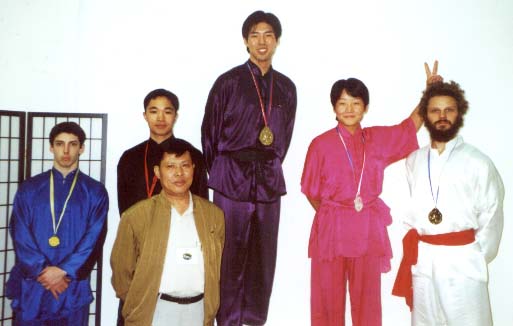 This is the results of the Open Emptyhand division. Kyu took first and Han Jun took second both with Changquan sets, A guy who's name I don't remember who did Eagle Claw got third, the guy on the right, who's name I have since learned is Sean Marshall, out of Annapolis Maryland, did drunken fist. Luciano took fifth with his stunning Tongbei quan.

&nbsp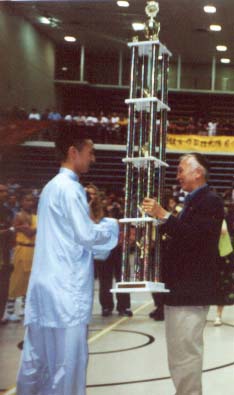 Brandon took the Internal Grandchampionship, proving he's the undefeatable pimp daddy once and for all. Luciano also took the Men's Contemporary Grandchampionship. (unforunately I didn't get a picture). We had a hell of a time fitting both of the trophies into our dinky rental car. And I stayed up all night that night trying to get the trophies disassembled so we could take them on the airplane.

&nbsp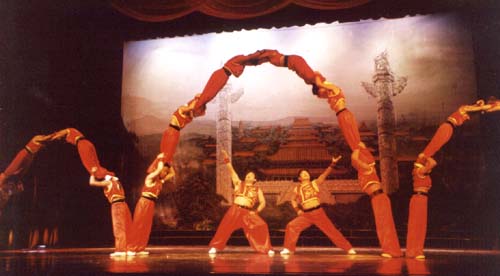 Here's a cool photo I took during the stage show at Splendid China, its a combination of Chinese acrobatics, dance, music and of course, wushu. I encourage you guys to check it out if you go to Orlando.

---
Click here to go back to BEIJINGWUSHUTEAM.COM.