CLICK HERE TO GO BACK TO THE FRONT PAGE
CLICK HERE TO GO TO THE WUSHU NEWS
2004 Collegiates - Stanford University 2/21/04
raffi@beijingwushuteam.com
(last updated: 3/08/04)

Here's some of my shots from the 8th Annual Collegiate Wushu Championships held at Stanford. I didn't get a chance to take many pictures throughout the day, but i got a few good ones I wanted to share (unfortunately most are a bit too blurry). :(

I'll also link to other sites with pictures at the bottom of this page, check them out.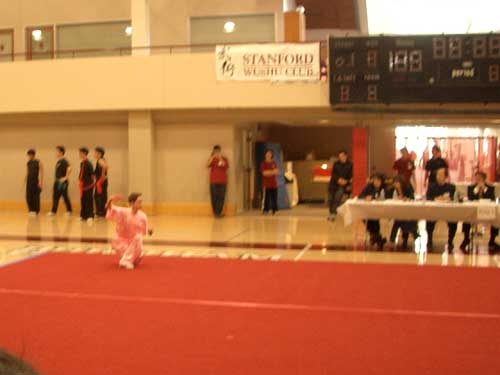 Brenda Hatley of SF State busting out in Changquan. Brenda ended up getting 2nd in the Women's All-Around competition.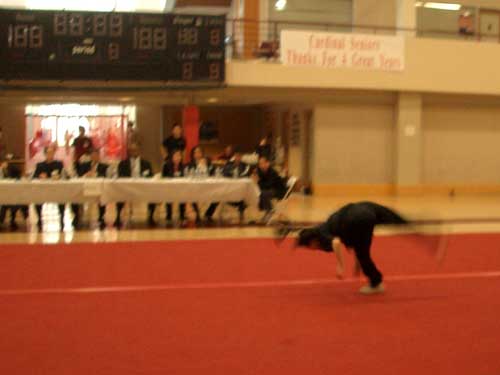 Cal Wushu Senior Grace Kim pulls off the aerial in chanquan.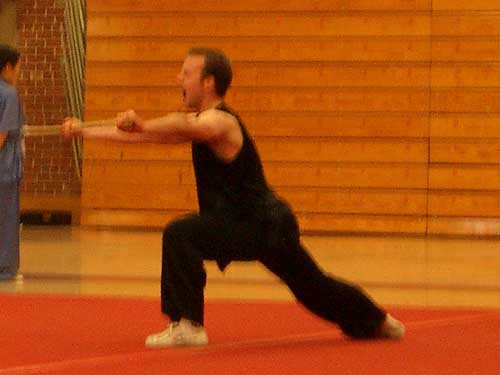 Big Kevin Mcchubb Morris releases his inner beast in Nangun.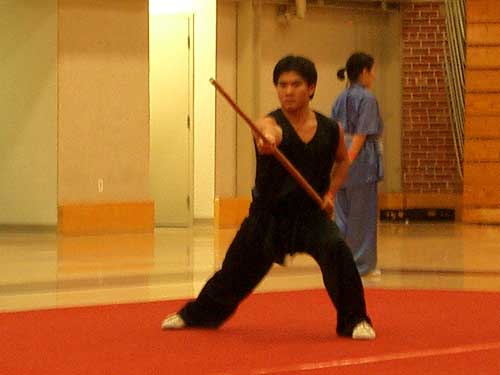 George Mason University student and US Team member Jason Lui took first in Nanquan, Nandao and Nangun.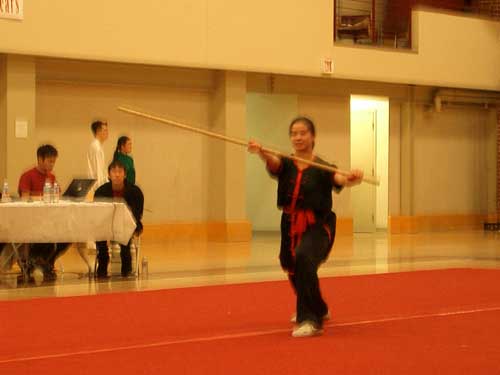 Cal Wushu's Emily Zeller in Nangun.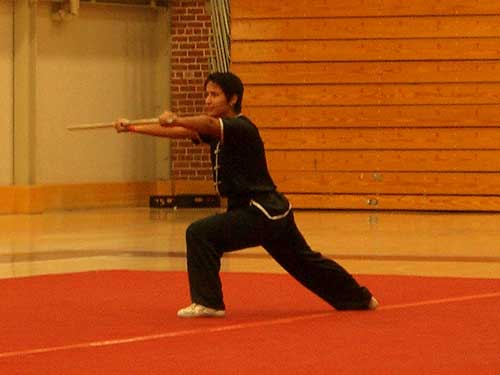 Brazil's Jordana Saldanha dominated the women's southern events.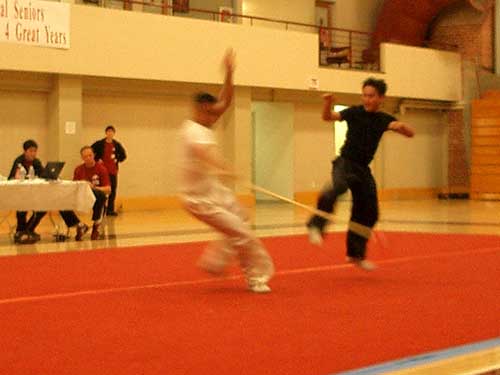 UC Irvine students doing a great spear vs emptyhand set in the sparring set division. Unfortunately the guy in black hurt his ankle towards they end. :(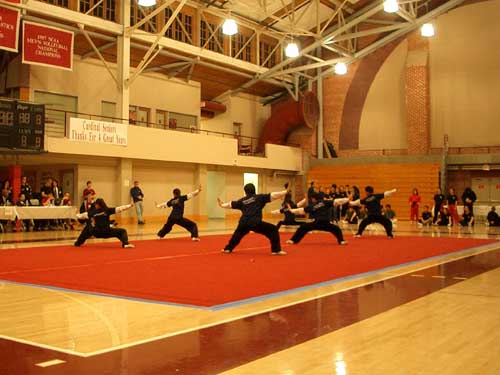 All the group sets were really great. UCSD made a strong showing for their first collegiates team competition.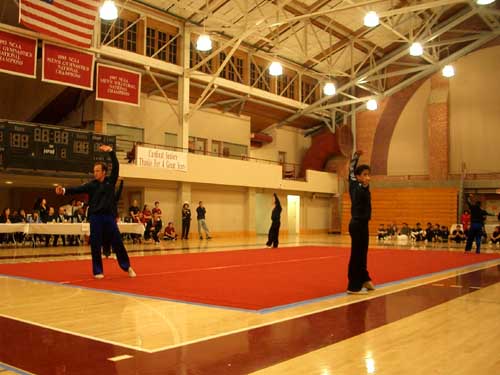 UC Berkeley's Team A did a great group set, really creative, very well synchronized.
Jumping Side Kick! (650kb)
3 Man emptyhand fighting and 3 Woman weapon's sparring! (3Mb)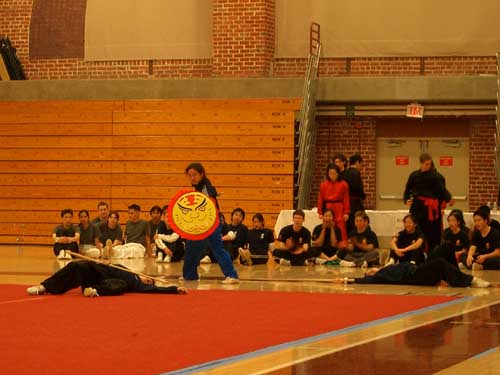 As you can see in the video, there was some cool sparring. Here Grace takes out two staff wielding attackers.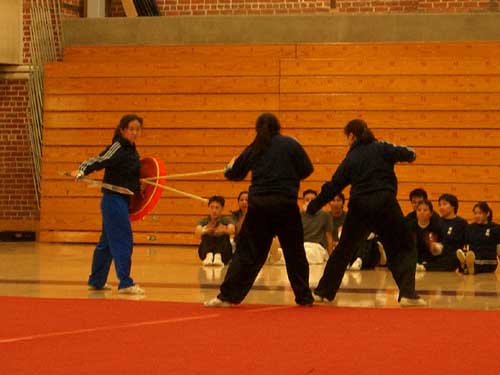 Ultimately Grace disarmed them.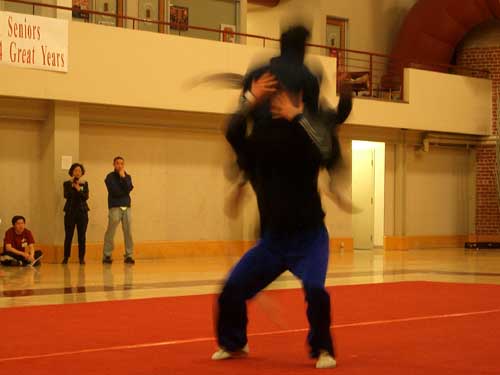 Big Kevin, Little Kevin and Chuck did a cool emptyhand sparring set. Here Little Kevin does a flying crotch attack into Big Kevin's face while Chuck (not seen in this pic) does a flying sidekick from behind.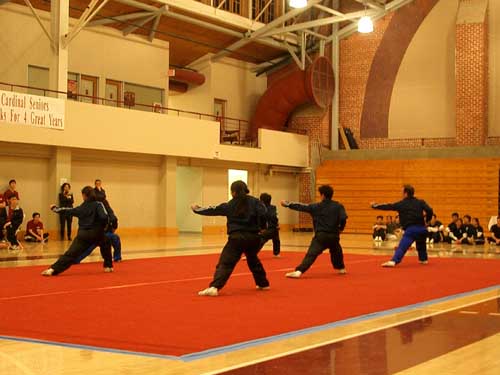 And they finished off with some more group set.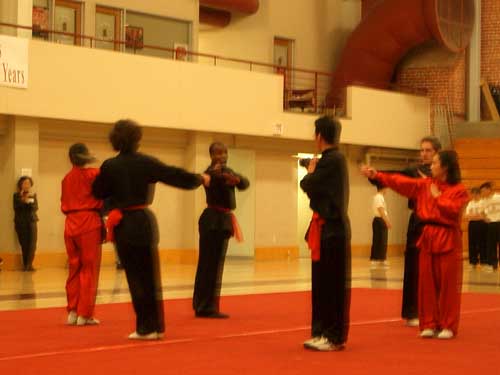 Stanford Team A did a really great job in their group set as well, very creative. They tied with Cal Wushu A but lost a very close tie breaker.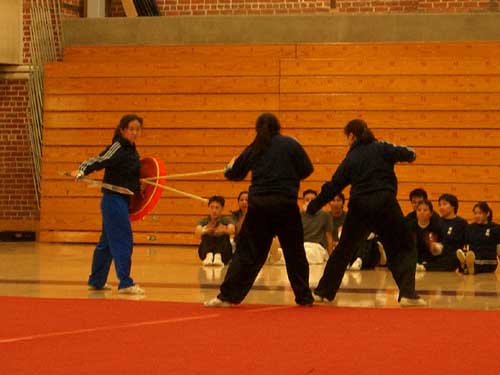 They had lots of great wushu and sparring moves in their set, unfortunately I wasn't able to get much of it on film. Stephanie Liu did a great backflip off of her sparring opponents, hopefully someone else got a picture of this.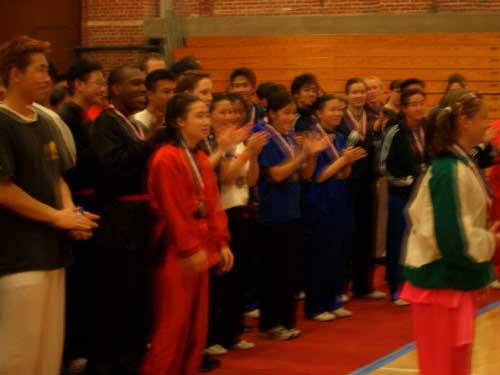 Unfortunately the only halfway clear picture I got of Paula Amidani was this shot during the awarding of the women's All-Around results. Paula's on the far right (getting her trophy), Stephanie Liu and Brenda Hatley got 2nd and 3rd.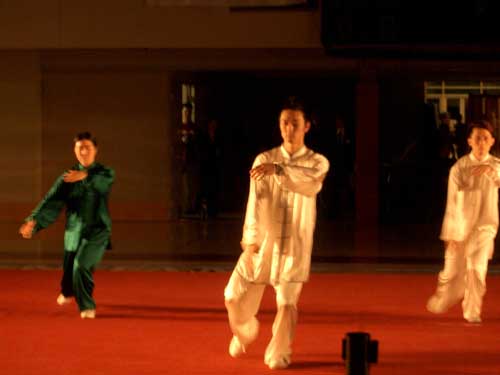 After the event they had a pretty entertaining demo. Including a taiji demo headed up by National Taiji champion Brandon Sugiyama.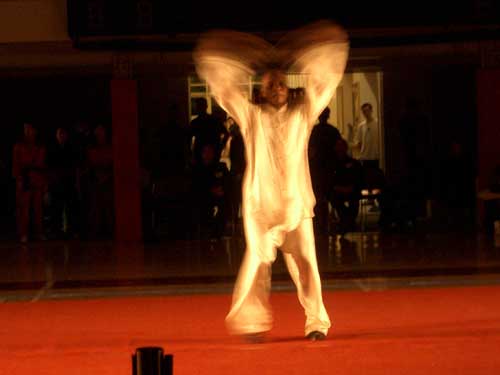 Sifu Clarence Burris did a demo of Liu He Ba Fa.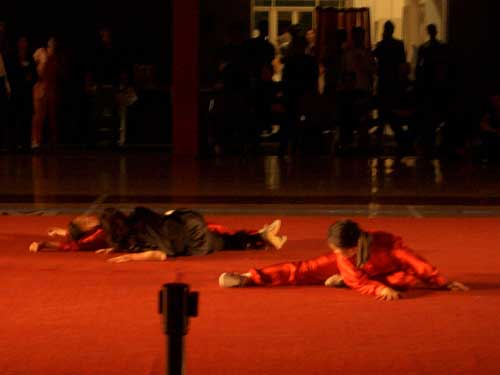 A Stanford girls repeated their sparring set performance from earlier in the day.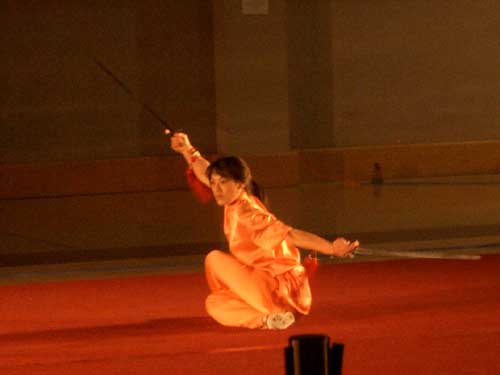 My favorite demo of the night, former Beijing Wushu Team member Zhuang Hui demonstrated her double straightswords.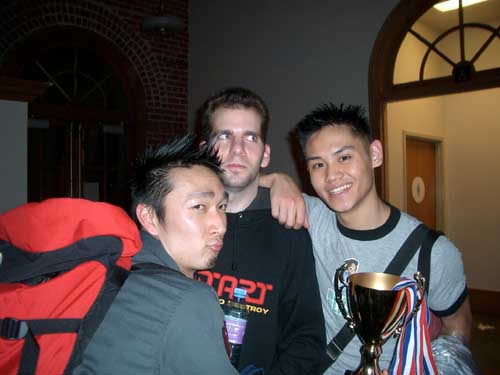 Brandon and I take a (strange) picture with 3 time All-Around Collegiate Champion Phil Dang of University of Oregon.
&nbsp
Links
Results and better pictures!

Official Results - Note that there was an error in the team score tabulation initially announced at the end of the tournament, the Irvine team actually won the team competition by 1 point!

http://www.tow.com/photogallery/20040221_wushu/ - Some superb pictures by Adam Tow. Not to be missed!

http://www.ocf.berkeley.edu/~qlzak/collegiates/collegiates.htm - Pictures of the Cal Wushu Team members.

http://www.terpwushu.net/mediadb.php?set=2 - Pictures from the University of Maryland Wushu Team's site.

http://students.seattleu.edu/momiil/picturespages/Collegiates022104/1.htm - Leigh from Seattle University's pictures.

http://acs.ucsd.edu/~wushu/gallery.htm - UCSD wushu team's photo page, including pictures from Collegiates. (lots of big files, loads a little slowly)

http://acs.ucsd.edu/~wushu/media.htm - UCSD Wushu's video section, lots of videos of club members from the competition.

http://gladstone.uoregon.edu/~pdang/Wushu/MarcoMeDY.jpg - All-around championship winner Phil Dang with DY Sao and Marco.

http://www.stanford.edu/~mcwu - Mostly pictures of Stanford club members

&nbsp
---
go to beijingwushuteam.com