CLICK HERE TO GO TO BEIJINGWUSHUTEAM.COM
CLICK HERE TO GO BACK TO BEIJING TEAM '98 TOP
1998 Beijing Wushu visit, February/March
The first opportunity I had to see the Beijing Team during their most recent visit was Valentines Day weekend. Me and a bunch of my fellow wushu practicioners from the Bay Area took a road trip down to visit the Team during their second week in the US. We got to watch their workout (just to remind us how awesome their Wushu is), and we got the opportunity to take them around on their day off.
Liu Juan, Liu Qing Hua,Jian Zeng Jian and I at some restaurant in Monterey Park. Liu Qing Hua is demonstrating her intense "wushu stare." By the way, they aren't all sitting on my lap.

For me this was the first time I'd seen the team since they left the US in April '95. Many of the members who were here then (see the '95 Page for pictures of them) have retired. So I was faced with a practically new Beijing Team to get to meet. Luckily for me they were all very friendly and outgoing (once you get to meet them, they're not too different than us, except for being awesome at Wushu... and not being able to speak English...) The first day I got to hang w/ Liu Qing Hua (Women's Champ of China and phreak of the team), Liu Juan (definitely the cutest woman on the team) and Jian Zeng Jiao (aka Z.Z.Z. because his name is so friggin' hard to pronounce!)

That evening Brandon Sugiyama's incredibly cool parents were generous enough to invite the whole team over for dinner (hey, what the heck, dinner party tonight for 30!) This gave us a chance to catch up with our old friends from '95, as well as meet some of the newer team members we didn't know yet.

In case you were wondering, of the '95 Team, the only returing women were Li Jing and Chen Chen. Most of the men came back except for Di Guang Wen and Ka Li. Jing Yi reportedly has become a reporter and/or camera woman for TV in China. Zhu Gui Jun and Di Guang Wen have gone to Singapore to coach. Ka Li is coaching in Hong Kong, Zhuang Hui has retired. Liu Zai Hong and Tan Hua are missing in action as far as I know. Oh, and Li Qiang is still on the team, they just didn't bring her this time.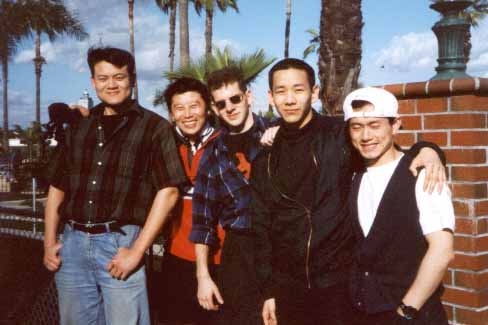 Eric, He Jing De, Raffi, Patrick and Jiang Bong Jun hanging out in front of Bullwinkle's Mini-golf/Video arcade.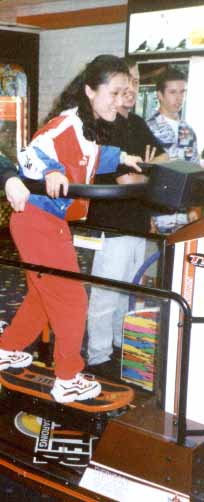 She might not be able to play the skate board video game very well, but her wushu is awesome.

The next day, the terror that is the Beijing Team decended on the innocent populus at the Mini-Golf/Video Arcade. My good friend Mae managed to whoop Qiu Dong Xing at Tekken, which just goes to show that there is no relationship between actual wushu skill and video game skill (actually except for Patrick, I'd say its inversely proportional). Another interesting match up was the 'Mens coach VS Womens coach' match to the death in Air Hockey.

Unfortunately none of the Beijing Team members were brave enough to try "Xiao Golf." Although reportedly some of them like the Go Carts. Eventually we skipped out of the arcade and resumed our sock and sneaker shopping from the previous day at a nearby sports store.

That evening we were treated to dinner by some very generous people who we don't know, but they were nice enough to pay for all of us who were just visiting. This allowed us a peak in to the Beijing Team's mysterious eating habits. This particular night I think they were in the mood for sweets, because in addition to full entres, they also decided to order fancy drinks and deserts, which they had no problem eating before the meal. Thai Ice Tea, followed by a Banana Split, throw in a milk shake, THEN get to the actual dinner. I would not have believed it if I didn't witness it with my own eyes. One picture I took but didn't scan was of Shang Yu after the meal, with like 2 empty plates, and 4 empty glasses on the table in front of him, and this "I can't believe I ate the whole thing" look on his face.


Li Jing performing straightsword during the Intercollegiate Wushu Championships.

After bidding the Team a fond fairwell, we headed back to Berkeley just in time for me to run the Second Annual Intercollegiate Wushu Championships. We were lucky enough to get the Beijing Team to come up and do a demo. I had a whole bunch of photos from their demo, but on my third trip down the team members took all my duplicates and most of my originals! (hey, don't argue with someone who can do a 540 twist!) Needless to say, their demo was awesome. As was the opportunity to have them judge part of the competition. The best part was when Han Jing (performing the role of Head Judge) holds up Eric Louie's score, then says (in Chinese) "minus 0.1 for making noise."

The next trip down was an eventful one. While giving our good friend Li Jing a lift back to Huntington Beach my car decided to do its best Exxon Valdez impersonation, that is to say it decided to leak about a quart of oil every 100 miles or so as we drove down I-5. This was a really quick trip, but Patrick and I did get to spend some quality time with Wu Bin, talking business about the Beijing Team's next performances and our ideas about promoting wushu to a higher level.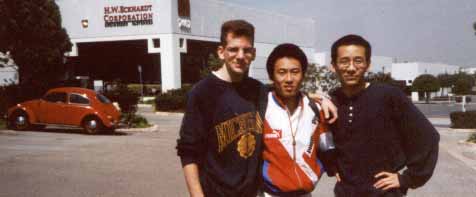 After their 9 hour drive, Patrick and Raffi need to be supported by Shang Yu to stay on their feet. Notice the oil slick eminating from the back of my car.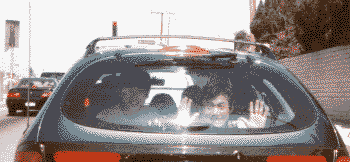 From reading their lips I think Jiang Bong Jun and Liu Yang were screaming something along the lines of, "Please don't ram us! Please put down the camera!"

After driving my car back to Berkeley, I found out that the best place to get it fixed was in fact in LA... so Pat and I decided to hit the road again in our rolling EPA disaster and head for the Southland. hey, it only took us 9 hours and like 5 quarts of oil, as we were keeping it under 55mph the whole time. But this trip we had the opportunity to spend more time with the team. Our good friends from Wushu West were down there visiting the team the same weekend (see Mark Moran's photo-essay for his perspective). We had lunch w/ the team and hit the mall again. Me and my good friend Kong Xiang Dong went shopping for Levis (he wears a 28 waist, 30 inseam, in case you were wondering, ladies). That evening me and Pat and Li Jing caught a showing of Titanic... and let me tell you, the universal themes of panic and mass destruction DO cross language barriers!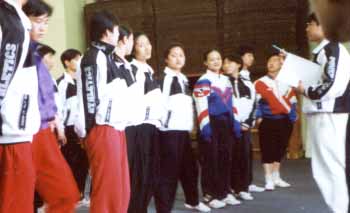 There the team is lined up at the National Wushu Training Center practicing for the standing ovation at the end of their performances.

Finally I got my car fixed and we headed back to Berkeley, this time approaching speeds of 65 miles per hour! This was the third week of march, the next time we would come down would be for the Beijing Team's last performance in America before heading back to China.



Click Here to see the next page!
---
Click Here to go back to Beijing Team '98

Click Here to go back to www.beijingwushuteam.com

Send feedback to raffi at beijingwushuteam.com