CLICK HERE TO GO TO BEIJINGWUSHUTEAM.COM
CLICK HERE TO GO BACK TO BEIJING TEAM '99 TOP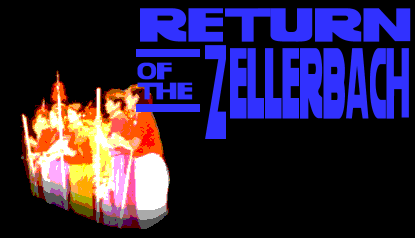 This chapter actually starts months before the Beijing Team showed up in the Bay Area. It starts in the summer before actually. Only a few months after the Beijing Team left the US from their 1998 visit. NWTC asked us if we were willing to organize another Beijing Team performance in the Bay Area. We had done a bang up job in 1995, hosting the team's most successful performance of that trip. We were going to do it again in 1998 but the deal fell through at the last minute when we had problems getting the theater in time.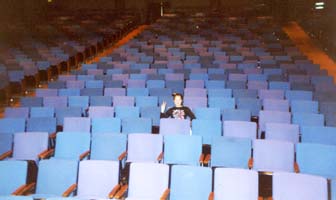 Shan Ming poses in the empty Zellerbach Auditorium hours before the show. How the heck are we going to sell all these seats???

But this year we were going to do it right, we were planning way in advance, it should be no problem right? Well real life seldomly goes as easily as its supposed to, but all in all, things still worked out, in the end.

March 14th was the day we were both eagerly anticipating and dreading. We needed to sell 2000 seats! We were doing the performance at Zellerbach Auditorium, on the UC Berkeley campus, the same theater the team performed their second show in 1995. That had been hailed as one of the team's best performances. It was because of the tremendous energy of the college age audience who was cheering their heads off.

Well we hoped that this year's performance would match if not surpass the '95 show. For about two months in advance we were mailing out info, passing out cards and posting flyers around Berkeley, San Francisco and Oakland. Things started of shakey, with only two weeks to go, we had only sold about 1/2 the seats. Of course a large bulk of the tickets are sold in the last few days, but we were didn't want to go into the last week with only a few hundred tickets sold. A few of our top publicity efforts were hitting the SF Chinatown New Years parade and attacking parked cars at the local Asian supermarkets with flyers.

One thing that is annoying about being in San Francisco is the politics that come with any martial arts event. We were painfully reminded of this when the time came for the performance. Many of our scheduled events were scrapped when we found out that many of the traditional sifus in the area wanted to take the team out to dinner (you could call it "martial arts networking" I guess). So the day they drove up to the Bay Area from LA they ended up being taken out to dinner by a bunch of traditional guys (I don't remember most of their names, despite seeing most of these guys at tournaments... I do have a bunch of nicknames for them, but I dare not mention them here).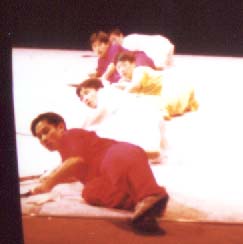 Jump side kick into fall during the double broadsword group set. That looks like Jian Zen Jiao closest to the camera.

I was able to crash this particular private banquet because I drove Li Jing (who as you probably know is a former team member who retired from the team the year before and is now coaching at UC Berkeley), she was welcome to crash, and therefore so was her driver. I relished the chance to get to see my buddies on the team again, even though it had only been a week since we saw them in Ohio (see Episode II).

The real excitement started after the dinner was over. We had lined up for Wu Bin, the Beijing Team coach to get interviewed on a local Chinese language radio station that night. Since I was down there already, and we were running late, I took Wu Bin and Eric Chen in the Sherpamobile to San Francisco! We got to the station in time, well, what there was of it. It was this tiny office in the basement of a building downtown... while they were being interviewed I poked around... Turns out its a multilingual type radio station, and 10pm on Fridays was the Mandarin Hour. Well, if nothing else I learned how the Hindu community was protesting the desecration of their dieties by the TV show Xena: Warrior Princess.

After that, more fun! Wu Bin and Eric Chen had setup a meeting with Lily Lau, famous Eagle Claw sifu in South San Francisco. Unfortunately the directions we were given were pretty shotty, so we were kind of late showing up (lots of fun driving around Candlestick park at 11:30 pm!) Well after we found the right place (they gave us directions for coming from the south, but we were coming from the north...), much to my humiliation, they saw us parking in my bus... I even tried to park far away so they wouldn't get a good look at night, but I still got the question, "That's you car? You brought them in that?"

At this point I sort of switched into "shadow mode." There were big chinese martial arts discussions going on, so I kind of sat at the far end of the table and tried to occupy myself on something else. Unfortunately this was the kind of karaoke place where its a big restaurant and once guy goes up at a time and sings for everyone. After enduring a great rendition of John Denver's "Take Me Home Country Roads," I tried to distract myself by reading the laserdisc covers.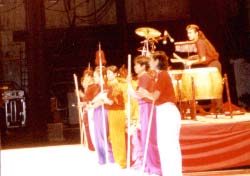 A picture taken during the weapons sparring set portion of the Zellerbach performance

One highlight was when Sifu Lily Lau took the microphone to sing a chinese song. She actually sang really well and I would have to say it was one of the best Karaoke performances I've witnessed (I have to say that my former classmate Mai would be fighting for this honor though, you may have heard her do the National Anthem at recent UC Berkeley Chinese Martial Arts Championships). After a little more chatting, (and I think they realized I was getting tired...) we decided to go and.... they walked us out to the car! argh. So this time they got a nice close up look of the Sherpamobile... (which of course brings up my favorite scene in Star Wars - when Princess Leia says to Han Solo and Luke Skywalker, "You guys came in that thing? You're braver than I thought!"

So we made it back to Oakland and at this time I was informed that there was a really really really important VIP coming in tomorrow to watch the team's performance. Mr. Li Jie, who happens... by the way... to be the President of Wushu in China! So Wu Bin and Eric Chen politely 'requested' my presence at the airport with them when they picked him up. They wanted me as a non-chinese person to be conspicuosly visible to represent American wushu people when he arrived (Rob Collins and I were both in this roll pretty much).

So I went home, got a couple hours sleep and came back the next morning to meet the team for breakfast. We went to a cafe in Oakland Chinatown and had a delicious breakfast of Ham and Eggs. The food aside, it was another chance for me to hang with the team members, which was the most fun thing for me (performance, smerformance!) I also got to talk to Zhang Qing Ru, the Beijing team leader who sort of manages the team while they're here visiting. You may have seen her in some of the pictures, she's the 6'+ woman with the glasses. Ms. Zhang used to be a volleyball player before becoming an administrator at the sports institute. I'm sure she still kicks ass at volleyball too.

After breakfast I ended up going to the Oakland airport to pick up my pal Tina who was coming in from DC, also Rob Collins came with us to pick up the rental car we were going to use to pick up the VIPs in. Well we grabbed Tina no problem, and started driving to the rental car place, using the HANDY DANDY directions that someone printed out from an online map web site. Well, these damn directions told us to go to way to the other end of Oakland... after driving for about 15 minutes I was like "hmm, I think we need to double check these directions..." and upon producing a map, we realized that the address we were trying to find was about a block outside the airport! So we drove back, found that place, only to find that that wasn't where you RENTED the cars, that was only where they stored the cars, the pick up counter was... right at the airport! so we drove back to the airport and after a little arguing with some rental people, got ourselves a nice Cadillac. But let everyone know (or at least the person who provided us with the directions) that I was about to strangle someone at this point!

So we got back to the team's hotel just in time to rush to the SF airport and pick up the VIPs, while part of the team went down to San Jose to do a demo at Larry Lam's (of WMAC Masters and Ninja Turtle fame) martial arts school. It ended up being me, Pat, Tina, Kong Xiang Dong and Shang Yu going with Eric Chen, Rob and Wu Bin to be "meet and greet" people. Of course customs took a while, but when Li Jie and the other people in his group came out, we did the whole "line of hand shakes" and group photos to welcome him to the US. (Had I had more time to prepare I could have scared up some more Americans and even made a sign... but we were working on short time here!)

After picking these guys up, we headed back to the East Bay, and decided to stop for lunch first, since they hadn't eaten in a while. We went to our favorite Asian Mall, Pacific East Mall, home of the Ranch 99! The highlight of this meal was Li Jie's observation that Patrick, Rob and I were all left handed and so was he - truly an international bond has been made - The Brotherhood of the Left Hand!

After taking them back to the hotel we just chilled with the team members a while. While Shang Yu and Kong Xiang Dong had gotten a chance to drive across the Bay Bridge and see a little of San Francisco, and some of the team members had driven down to San Jose to demo, some of the team members spent the whole day sitting in the hotel doing nothing and they were getting bored. But our dinner banquet wasn't for a couple more hours, but we at least tried to keep them entertained.

But I was lucky, the Sherpamobile and I were called into service for official team business! Kong Xiang Dong, official videographer of the Beijing Team needed to buy more video tapes for tomorrow's performance, so Zhang Qing Ru and he asked me to take them to buy more. Shang Yu came too so Patrick could help him shop for a computer (hey, just because they're from China doesn't mean that they don't want all the same electronics we want). So we loaded up the Sherpamobile, this time with a full load of 8 people (Li Jing and Tina came too) and hit the highway heading for Circuit City!

This was another of one those "Hey, lets make fun of this car!" sessions. Aside from remarks about how they thought it was going to shake apart and surprise at the fact that it could get up to highway speeds, they also commented on how my bus didn't have a nose because I already had a "da bi zi." About 3/4 of the way there, someone finally realized "hey, he's driving us, we shouldn't make fun of his car..." (see Episode IV - Ross The Undiscovered Country for an almost identical replay of this scene with different team members a few weeks later).

After obtaining the necessary video tapes and dropping off the team members, we headed back to Berkeley to get ready for the one activity we planned with the team that wasn't getting scrapped at the last minute, the volunteer banquet. This banquet was for the Cal Wushu club members and others who were donating their time to sell tickets and help promote the event. The thing that was different about this banquet was the fact that since we were organizing it, we were going to force the team members to split up and sit at all the tables so they wouldn't just segregate themselves in the back. This forces them to get to meet some new people (instead of just making fun of me), and gives the volunteers who were putting in work to get a chance to get to know them (since only people like me, who were doing these scrub jobs of driving people around were getting a chance to meet them most of the time).

Of course I snagged the best table, the one that had my favorite team members at it, Liu Juan and Liu Qing Hua. We also had Shan Ming and Jiang Bang Jun and He Jingde. Luckily Hansie was able to translate for us, since otherwise my Chinese was like the best at the table. :P Aside for making jokes about my big nose, Liu Juan and I discovered our mutual love for the movie Titanic. (I'll never let go, Ka Ru Fei!) And of course I also got a lot of them shoving food on my plate telling me I'm too skinny.

We ate a huge meal and took a few group shots, we bid farewell to the team as they needed a good night's sleep before tomorrow's performance. Patrick and I still had a lot of work to do, we needed to get the list of performers ready for the next day's show. So we headed back to his office and spent the next couple hours cranking something out. The trick here wasn't the performers names or what they were doing, but figuring out which sifus you had to list and in what order so they wouldn't be all offended when they saw it. Of course the best solution in this case is just to list everyone and their brother, whether they actually helped or not, but as we only had like one page, we had to be selective (and of course, no one was happy with the final product!)

So after grabbing yet another few hours of sleep, we met up with the team in Berkeley for their breakfast. Most of the team was there, a few of the guys went to do a workout for Patti Li's class in Berkeley. But the rest of us enjoyed breakfast together, which included me sharing photos of Sherpa and Bernie at Fort Funston.

After lunch the real fun began... setting up the theater for the performance! We drove over to Zellerbach and had the carpet taped down in a few minutes and the scenaries setup too. Once we were set up, some of the athletes kept themselves entertained by doing what they do best... working out! Hey, all those heavy meals can catch up with you, so why not do a hundred situps to burn off the calories? Well, you and I might not have that sort of motivation, but the Beijing team does.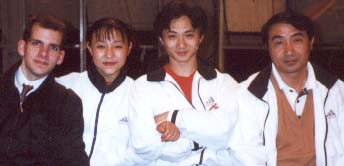 Raffi, Li Qiang, Qiu Dong Xing and Doctor Liu posing backstage.

Once things were set up, there wasn't much to do except run a few errands, pick up the program list and get changed into my nice clothes for the show. I decided to go for it baby, shirt AND tie. (We grad students aren't often found in such apparel!) The big question as show time approached was WILL the show sell out?!?! As of Friday we had sold about 1500 tickets (about 1/3 of those being in the last week or so). 2000 was very doable, considering that we had done a big push of publicity in the last three days and lots of people always try to get tickets at the door.

This is where my job of "scrub errand guy" ended and my position of "volunteer coordinator/day of running guy" started. My volunteers (many of whom were from the Berkeley Taekwondo white belt class and Hapkido club) showed up on time and were ready to work. Much thanks to Dianne, who I was able to convince to miss part of the show in order to man the merchandise table for the first half of the show.

As showtime approached the crowd outside the theater waiting to come in was growing and growing. As I was running around the balcony section checking on volunteers, they let the audience in, and by the time I got down to the lobby poor Dianne was being swamped by people wanted to buy merchandise before the show even started. I ran down to help her as the people kept coming in and taking their seats.

It was pretty cool actually. Like in '95, all these people you know come out of the woodwork in things like this (the martial arts community isn't that big, and everyone wants to come to things like the Beijing Team's performance! I saw people I'd randomly met at tournaments a year before, people who knew me from the web page and my former Chinese TA.

Once almost everyone was in the show started, wait... whats that? The box office closed? because they sold all the tickets! Yeah! We did it! But I was stuck out in the lobby watching the merchandise. I felt bad about making Dianne miss the performance so I told her to go watch the show and I would watch the stuff. I'd seen them perform in Ohio the week before and in previous years anyway, so I figured I could miss the show.

But some of that famous Raffi-Beijing Team luck (see episode iv) appeared. Zellerbach Auditorium hasn't changed at all since the last time we did a show there in '95 with the exception of ONE thing - a TV in the lobby showing what was going on on stage! I guess its to show people waiting out on the lobby whats going on on stage if they stuck out in the lobby or just tired of sitting down. But it was exactly what I, lowly merchandise table watcher needed to at least see what all the people cheering from inside the auditorium were enjoying. Of course the tiny people running about on the screen were not nearly as breathtaking as the performers appeared in person, but hey, at this point I wasn't about to complain about no zoom on the TV.

Before I knew it, the intermission started and people started streaming back into the lobby, eager to buy up the T-shirts and other merchandise. My second shift of merchandise sellers showed up so I decided to take a break and check out the action back stage (and also so I could grab some water and the goodies that Nathan had brought that had been taunting me all evening. I got back stage and was catching my breath for a minute, and asked the team members how the show was going, everyone seemed to think it was going well, they liked the response of the audience.

But unfortunately before I knew it, the show was starting again! I was "trapped" backstage! Well if I really wanted to, I could go out the back door and knock on the front doors til someone noticed and let me back into the lobby... but I figured things would take care of themselves and I wanted a chance to actually get to see some of the show. And from backstage too, no nosebleed seats for this insider!

You should probably read my other installments of the Beijing Team '99 story for more details about the performances, but the thing that struck me most was the high energy that this performance seemed to have. It was a real bang-bang-bang kind of deal, people running on and running off, one routine after another.

It was cool being backstage too, seeing the team members warming up, getting ready for their turn... running out, kicking ass and running off. They were having fun, but they were still very serious - they were all trying really hard to present the best possible performance. The coaches on the otherhand were a little more relaxed. The team leader and the team doctor were yucking it up and enjoying themselves. But the audience's response was clear to everyone - they were loving it!

Finally the big finale came up and then the final line up and salute to the audience. At this point Li Jing was grabbing the flowers we had purchased and was getting them ready to present to the team members. Unfortunately I was standing a little too close and got two bunches of flowers shoved in my face and was ordered to go out and present them. I didn't have time to notice the 2000 people applauding as I walked out on stage. On a positive note, only a couple of the team members had flowers at this point, so I pretty much got my choice of who to give them too. Well, since I'm out there already... might as well give it to my fave - Liu Qing Hua (well I guess she's a lot of people's favorite).

After the final curtain dropped, the atheletes took a deep breath, the rigors of the performance were finally past. I took a couple of them out to the lobby to sign autographs, I also got a chance to take a few pictures with them and see some more of those random friends who had come to watch. The scene was a madhouse for at least 30 minutes after the show, tons of people wanting autographs on their t-shirts and programs.

After packing up and cashing out, we bid farewell to Zellerbach once again and headed down the street to the good old Taiwan Restaurant (which btw, is not really Taiwanese). Which is actually the exact same place we came in '95 after the show. Again (by strange coincidence) I ended up sitting with Liu Juan and Shan Ming, but I also tried to make an effort to go to the other tables and chat with as many atheletes as possible. There were a few toasts and lots of joking going on. My good friend Jean was reunited with He Jingde, who she hadn't seen since '95... the highlight of their conversation was teaching him how to pick up hot American Mamas in english (I still can't believe they taught him the things they taught him, I seriously hope he didn't try to use it!)

The highlight of the post-performance dinner was the presentation of our group gift to the team. Flora had worked really hard on making a CD of American music to give to all the atheletes. The cover was a collage of pictures of the team from their earlier visits. Unfortunately some of the athletes who weren't in the US for the Collegiates didn't get in any of the pictures on the cover... oh well, I promised Han Jing I'd make a special cover for her later to make up for the oversite. After that we all headed home, very tired, very worn out, but happy we had successfully completed the show!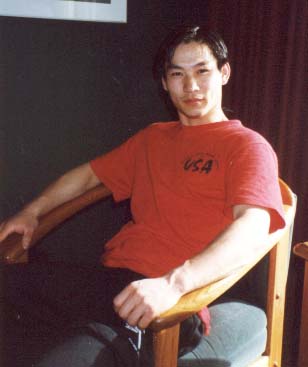 Jian Zen Jiao admits that he in fact was in Warriors of Virtue

The next morning we hit the team's hotel with some breakfast before heading out. This was it, the team's last day. All of our plans for siteseeing and having fun and giving them a good time were pushed back and cancelled and so we had to do it all in one day. After breakfast they packed up and we headed for the best place on earth... Ross (see episode iv for more Ross fun!)

In addition to a Ross, the Emeryville center we went to also had a Circuit City and an Old Navy, so the team went off in like 10 different directions. Just like back in '98, I helped my friend He Jingde shop for soap, then we hit the Ross and looked for... women's underwear (he assures me it was for his girlfriend...). We were on a tight schedule, so I was trying to encourage the team members to be quick, but there is no rushing at Ross. Zhang Qing Ru ended up buying the most, explaining to me that in China, clothes for tall people were hard to find, much less clothes for tall women! (and I have to say, Ross seems to specialize in those XXXL sized clothes that normal stores don't sell very much of).

We packed back into the vans and headed for SF Chinatown. This was most of the team members first chance to get to SF and cross the Bay Bridge. We made it to Chinatown in time for another lunch from sifus. If I hadn't completely thrown out the entire weekend (much less the past several months) on preparing for the team's performance, I would almost feel bad about "mooching" a free meal off these people, but hey, if it wasn't for us doing the work, there wouldn't be any Beijing team to host (well we did offer to pay for ourselves).

Lunch was consumed with a lot of picture taking, a little more making fun of my nose and a lot of joking around (oh yeah, and eating too). Things were a lot more free and relaxed now that the show was out of the way. Plus we knew the team was leaving soon, and we weren't sure when we'd be seeing them again, so we were just enjoying our time together.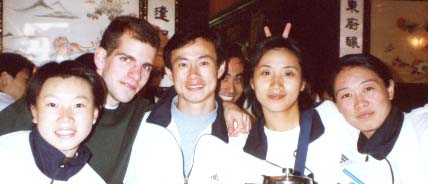 Liu Juan, Raffi, Jiang Bang Jun, Han Jing and Chen Chen stop for a photo.

After lunch, my true talents as navigator came into play. I lead the team vans on a circuitous motor tour of San Francisco's hills. We were slightly diverted when we happened upon a really bizarre traffic accident at Columbus and Lombard. Turns out a simple fender bender got worse when one of the cars swerved into a laundromat! It took out the glass storefront and a row of washers! There was water all over the place as we surveyed the backhalf of the car sticking out of the store. Here's an article I found about the incident (no mention of the vans full of Chinese martial artists that drove by a few minutes after it happened though).

Once we circumnavigated that obstacle, we drove by San Francisco's famous "curviest street in the world" and drove up and down some decently large hills, so they could tell their families that they really experienced the true San Francisco experience. (We even passed a cable car for good measure). We were making our way for our final sightseeing spot, the Marin Headlands' Ford Point, right across the Golden Gate bridge from the city in Marin County.

Now I really had to fight to make sure that this was the one location we were going to visit, other people had suggested more touristy areas, but I was insistant, and it paid off. It also gave us an excuse to drive across the Golden Gate bridge, which is another one of those "I can tell my family about" kind of things (I don't think their families would have been nearly as impressed if they told them they went to Coit Tower! :P )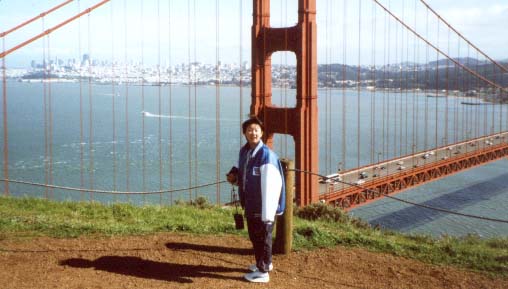 Liu Juan acknowledges the possibility that San Francisco is more beautiful than Hawaii

The atheletes and coaches were really struck with the view at the vista point. Ford Point still contains the mountings for the large cannons that the military used to defend the entrance to the SF bay back in the 1800's. Its actually really high up too, so you're looking down onto the bridge and almost as high as the towers.

Everyone pretty much snapped pictures til their film was used up. I tried as best I could to explain what everything was, since you can see the entire Bay Area from up there, it was pretty hard though... They knew what Alcatraz was, but good luck trying to explain the Angel Island Immigration Station. I tried to get a photo with as many of the team members as possible though, can't beat the background right?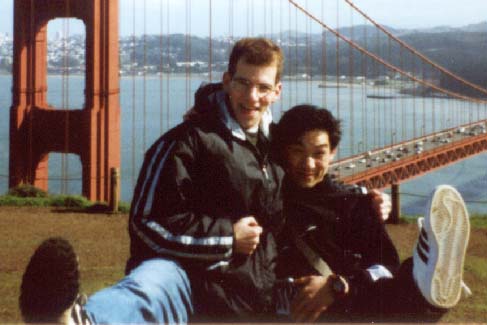 Unfortunately Han Jing's photography skills aren't as good as her wushu skills, Jian Zen Jiao and I are a little cut off in this goof picture.

After a couple group pictures (you know, the kind where there is one guy trying to take a picture with every single of the 20 people in the picture's camera) the team needed to hit the road for LA, so we bid our final goodbyes. I pulled a MacArthur though, "I shall return!" -- since the next week was our spring break and I knew I had to spend as much time as possible visiting the team.

Most of this article has been written in the middle of the night the day before my trip to China, so I apologize for any typos, grammar mistakes or general low quality... hopefully the pictures make up for its literary shortcommings.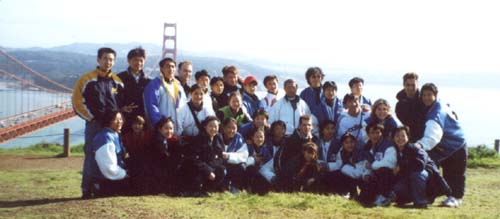 ---
Click Here to go back to Beijing Team '99

Click Here to go back to www.beijingwushuteam.com

Send feedback to raffi at beijingwushuteam.com