CLICK HERE TO GO TO RAFFI'S WUSHU PAGE
CLICK HERE TO GO TO RAFFI'S REVIEW OF THE LETHAL WEAPON 4 SNEAK PREVIEW AND COVERAGE OF JET's AMERICAN TV APPEARANCES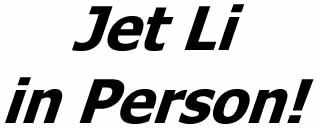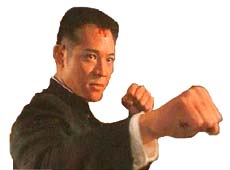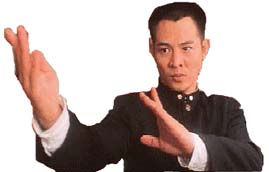 or 'How I convinced Wushu Superstar Jet Li that I am fluent in Chinese."
by Raffi, 6/10/98
June 7th, 1998 was the date. Jet Li was scheduled to appear at the Los Angeles Comic Book and Science Fiction Convention. My pal Pat and I decided to go for it! Despite the fact that LA is 350+ miles from Berkeley, where I live, the chance to meet Jet was definitely worth the trouble. We've been so close to Jet (training with his classmates, meeting his coach Wu Bin, etc), but we've never had the opportunity to meet him face to face. And you know once Lethal Weapon 4 comes out, Jet will be skyrocketed to superstardom, so the chance to get within a 100 feet of him will be slim to none.
Pat and I jumped in my trusty '67 Beetle and hit the road Friday morning. We made it to LA in one piece, and on a whim decided to crash the premiere of Disney's Mulan, which was being debuted in Hollywood that night.Click here for just a few of the famous people we saw there. Well, Mulan is sort of wushu related, so the random chance to meet and see a lot of big Hollywood stars made the whole trip down to LA worth it. But the real reason for this trip (besides for VW parts) was to see Jet, and nothing could stand in our way!
The day of the convention, we were surprised to find a line stretching around the block full of HK movie fans waiting to get in. In addition to Jet Li, they were also featuring several cast members of Enter The Dragon. Bolo Yueng, Bob Wahl and Ahna Capri were there to commemorate the 25th Anniversary of Bruce Lee's greatest movie. In addition to the VIPs, the comic books and the Anime, toys, etc, I was shocked to find there was an incredible amount of sleazy porn to be found at this convention (the Star Trek and comic conventions that I frequented as a youth never had such faire). In addition to at least one washed up porno-star, there was a table featuring pin-up model Alley Baggett.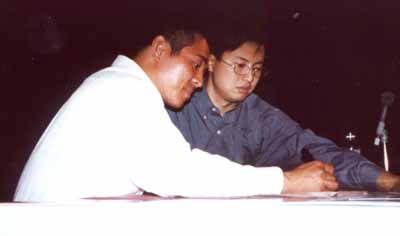 But everyone was really there to see Jet. He appeared at 2pm, but some people had gotten to the convention before 7am, to ensure they had front row seats. There were about 200 seats set up in front of a small stage. By the time we got in, all the seats were taken, and people were lining up around the sides and in the back. Before Jet came out, they showed a preview for Lethal Weapon 4, not the one you see in theaters, but a cooler one, showing Jet kicking some ass.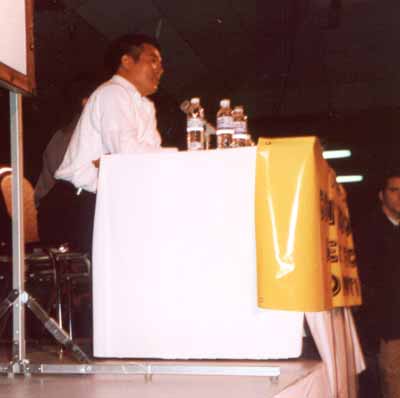 Jet came running down the back stairs and onto the stage. He said a few brief words, something along the lines of "Thank you for inviting me here." This marks the first instance that me (and probably almost all of the people there) heard Jet saying anything in English (and considering that all the voices in his movies are dubbed, anything in any language). Throughout the length of the appearance, I was really impressed with Jet's English. He had a pretty good vocabulary and clear pronounciation. Occasionally he had to refer to his translator for clarification (more due to the poor diction of the question askers than anything else).
Jet looked pretty good, pretty much like he does on the screen. Don't let the poor quality of these photos fool you (more my old camera and bad lighting). But it is clear that he's aging. He's not the young faced kid you see in Shaolin Temple, that's for sure.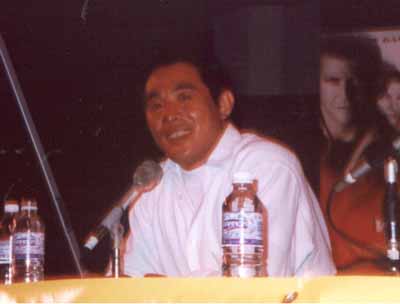 First off, Jet took questions from the audience. As soon as they announced this, I ran into line, trying to think of a question along the way. I ended up being the fourth or fifth person in line, and had to come up w/ something fast. OK, no problem, I'll just ask him something about his movies (since I have seen nearly all of them). I decided to ask him which of his movies was his favorite. But wait, should I squander what might be my only chance to interact with Jet in my whole life on just a question about his movies? What about wushu? OK, I figured out a plan: I'll preface my question with some statements about wushu. So despite my nervousness, it came out something like this: "Li Lien Jie, first I want to say that your wushu is awesome and the Beijing Wushu Team rocks! And I wanted to ask you which of your movies is your favorite." So Jet looks at me, then looks at my Beijing Wushu Team T-shirt and says, "Do you want me to answer in Chinese or in English, its obvious you speak Chinese very well." I guess the fact that I referred to him by his Chinese name and correctly used the term wushu instead of kungfu (like all the HK movie fans did) made Jet think I was a fluent speaker of Chinese. So of course, not wanting to disappoint him, I asked him to answer in English (for the audience's sake, of course). So in case you were wondering, Jet likes all his movies the same, because he puts all his energy in each of his movies when he makes them, trying to make them the best they can be and no, I can't really speak Chinese well at all, not yet at least.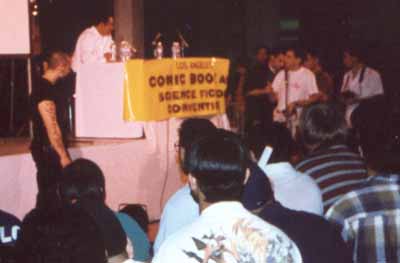 The rest of the questions were the run of the mill fan questions. Ever watched any interviews with Jackie Chan? It was nearly the same: "How is making movies in the US different than movies in Hong Kong", "How much do you train?", "When did you start?", etc, etc. There were a few interesting questions, like "The women want to know, are you available?" to which Jet replied, "I am a normal guy, I have a girlfriend, but I won't say her name." What Jet doesn't know, is that I know who his girlfriend is (like I said, I'm connected!). Another interesting tidbit that Jet shared was the first rule that Lethal Weapon 4 director Richard Donner shared with him when shooting: "Don't Hurt Mel!"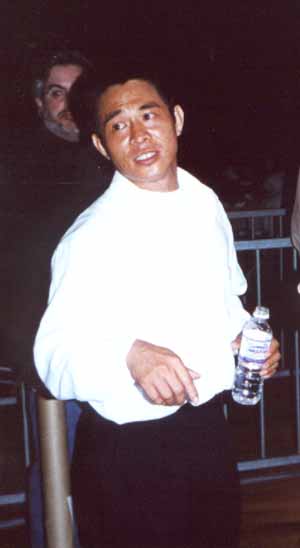 After about 30 or 40 minutes of question and answer (included at least two religious nuts wanting to know if Jet mediates and prays), Jet took a little break before the autograph session. The people running the convention fairly decided to let the people who actually had seats get first crack at the autographs (since they're the nuts who got there at 7am). Since Pat and I didn't have seats, we knew we had to take decisive action!
Luckily, we convinced Eric and Debbie Chen of the National Wushu Training Center to come by. They've met Jet several times before, so when we saw them being let 'backstage' (it was really behind the fence thing next to stage) I made my move. While they were chatting, I jumped up, ran around the back side of the stage and accosted them!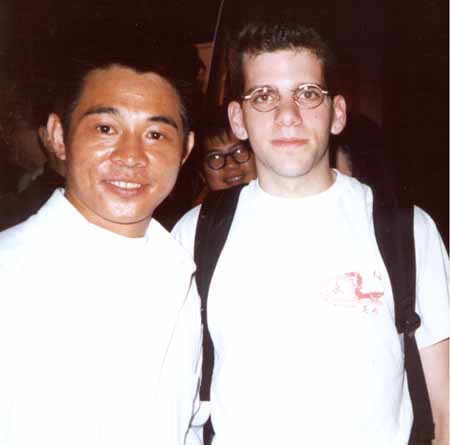 Yes! I shook Jet's hand, got introduced and asked him for a picture! The moment of fullfillment in my life had been reached! After a second or two of chatting and taking a few shots, Jet had to get back up on stage and sign autographs. So row by row, they took up people to get Jet to sign anything and everything (mostly posters from all of his movies). After about an hour, it became clear that Jet was getting tired, and there was no way in hell that everyone there was going to get an autograph. Luckily, with our amazing powers of smooze, Pat and I had introduced ourselves to his publicist (Hey, I run the Web's largest Wushu site, specfically dedicated to the Beijing Wushu Team). After assertaining that Jet would in fact be leaving soon, I managed to get us both autographed pictures. Well, actually since Jet was busy signing other stuff, we didn't actually get personalized ones, click here to see the real picture.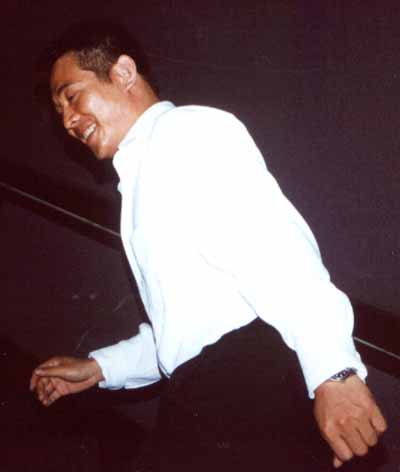 We waited around for Jet to leave, just in case he wanted to chat some more, but he was in a hurry, a reporter and photographer from Giant Robot Magazine were waiting to interview him upstairs. But I did manage one ambush shot of him as I gave him a parting, "Later, Jet!".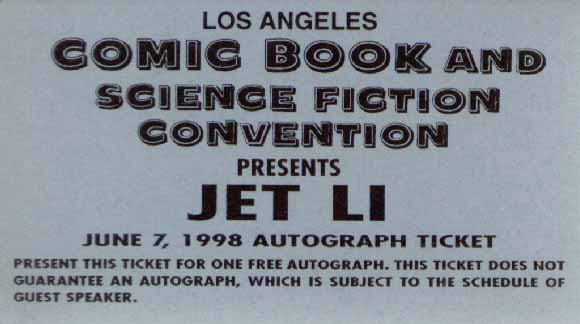 ---
Click here to go to Raffi's Wushu.